Cleveland Cavaliers forward Antawn Jamison has fractured his finger and will miss 5-7 weeks. Posted by Ben Golliver.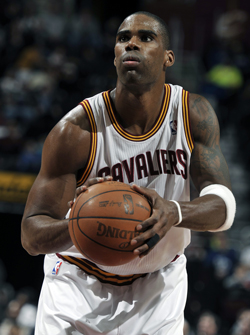 A few weeks back
, we noted that Cleveland Cavaliers forward Antawn Jamison had suffered a finger fracture that would keep him out 5-7 weeks and that the timing of the injury coupled with the anticipated recovery timeline meant that it is possibly season-ending.
On Thursday, the
Cleveland Plain-Dealer confirmed
that was the case: Jamison is done for the year.
Jamison admitted Thursday night he's done for the season. It's the first time he has ever broken a bone, and he has been surprised how much having a cast on his left hand limited him.
"No video games," he said with a smile. "It's been straight movie time for the past two weeks."

After the surgery, he spent a week with his family in Charlotte, N.C., but he's back to support his teammates in the final 16 games of the season.
His Cavaliers teammates need all the support they can get, as they dropped a whopper in Portland on Thursday, losing to the Blazers 111-70. After the game, Cavaliers coach Byron Scott
bashed his team's focus
: "Our team is just so soft mentally, it's unbelievable."
The Cavaliers currently hold the league's worst record, at 13-54. As we noted when Jamison was first injured, Cleveland is headed for a top three pick in the NBA Draft Lottery so there was no good reason for him to attempt a return this season.
The Cavaliers have also endured injuries to big man
Anderson Varejao
--
a blow that was season-ending
-- and point guard
Mo Williams
this season, who was traded to the Los Angeles
Clippers
prior to last month's trade deadline.
Jamison had
reportedly drawn interest prior to the trade deadline
, but the Cavaliers decided not to move him. He is averaging 18.0 points, 6.7 rebounds and 1.7 assists in 32.9 minutes per game this season.