Dallas Mavericks point guard Jason Kidd said he might retire if there's a lockout. Posted by Ben Golliver.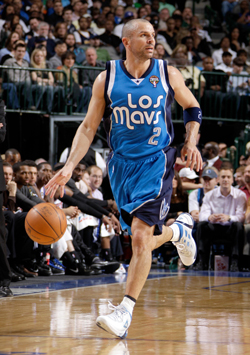 When you've been doing your job for as long as you can remember, but then something comes along to interrupt the routine, it can cause you to re-think everything. Especially if you're doing something that you love.
That's exactly where a number of the NBA's old guard players are sitting right now, staring down the barrel of a lockout and a potential work stoppage that could call into question their future as productive pros.
Back in December, Boston
Celtics
forward
Kevin Garnett
said the lockout would make him think twice about retirement. On Friday, Dallas Mavericks point guard Jason Kidd
expressed similar thoughts to Yahoo! Sports
.
"This could be it because it would be hard to come back after a lockout," Kidd told Yahoo! Sports. "I would probably move on and join the next chapter of what I would be doing in life. But I hope that isn't the case where it just ended without having one more season."
Kidd also noted that he had already started thinking about his career options once his playing days are over and also expressed concern about the toll a shortened season might have upon his body.
At 37 years old, Kidd is still extraordinarily productive, averaging 8.2 points, 8.4 assists and 4.6 rebounds per game. And, under his leadership, the Mavericks are one of the league's best teams,
poised to make a playoff run yet again
.
So before we go waiving Kidd off into the sunset, let's remember that he's still logging 33.5 minutes per game and hasn't missed a single game this season. A gradual, or even steep, reduction on his minutes or a switch to a backup role could certainly allow him to stick around well after a lockout, assuming his passion for the game and desire to put his body through the hell of an NBA season remains strong.
And that's what this is really about: disrupting the routine. If the regular season smoothly transitioned into the playoffs, which smoothly transitioned into the offseason, which smoothly transitioned into training camp, as always, we probably don't hear a peep from Kidd, who is under contract through next season. But the disruption that a lockout and potential work stoppage represents has the power to stop everyone, even a veteran like Kidd who has been through one before, in his tracks.