Posted by Royce Young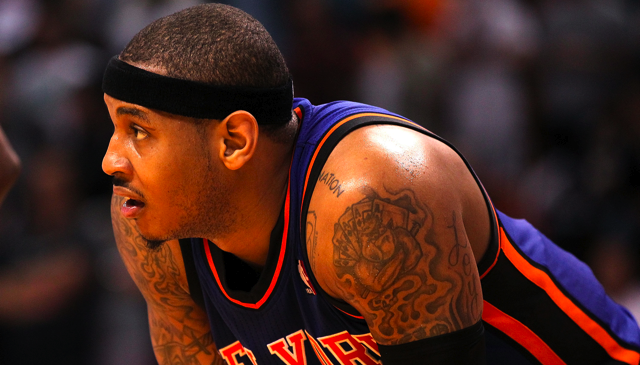 Just when you think things are turning for the
Knicks
. Just when you think maybe,
maybe,
they're figuring it out. After a big win over the
Grizzlies
behind like 50 3-pointers, there was reason to feel like potentially things were starting to square away.
Then the Knicks did what they've become pretty good at: They dropped a curious game to the lowly Detroit
Pistons
. They were outscored 29-17 in the fourth quarter and while the defense let them down in a big way, even more so
Carmelo Anthony
just didn't show up. The new Knick star went 2-12 (0-5 in the fourth quarter) for just six points in a game that was easily his worst since coming "home" to New York.
After the awful game, Anthony skipped speaking to reporters and headed straight for the team bus. Two no-shows for Melo in one night. One on the court, one off it.
A lot of people have been huffing about that and for good reason because it's an unprofessional move, but it happens. Players "skip" more than you think. It's when players of Melo's standing do it that we take notice. For obvious reasons, especially considering the circumstances.
I'm sure Melo wasn't psyched about being asked why he missed 10 of his 12 shots so he got out of there. It's definitely not something to freak over. But you know it's a story. I know it's a story. That's why I'm sitting here on a Friday night writing about it. A player of Melo's stature sneaks out of the arena and heads to the bus without answering for his grenade of a game? That's news, even if maybe it really shouldn't be.
At the same time, I find it kind of interesting that he did. (See, here I go on it.) Think back to all the questions Anthony answered while he was in Denver with all the rumors. Think how he stood and did an incredible job of handling probing questions about every little nugget of speculation that dropped. And on top of it, played his butt off for the
Nuggets
. It was admirable.
And now he drops a stinker for the Knicks and he skips town? I find that a little weird. Actually more than weird. It's kind of alarming. Again, nothing against Anthony because like I said, players "skipping" post-game activities happens, but my thing is why now? Seems like after a game like this is when you've got to talk. You've got to stand there and say the right things. The Knicks have dropped three of four with this one coming to a team they're supposed to be way better than. They look unorganized and with Anthony's 2-12 stinkbomb, New York was pretty much lost.
It's easy to stand there and answers questions when you're winning. It's easy to nod, smile and say, "I've got to give credit to my teammates," when you scored 45. It's nights like this where picking up your head to face the music isn't easy. It's tough. Is it Melo's duty to do it? Yeah, I guess. He wanted to be the face of New York basketball and so in good or bad, he has to carry that. But it's his choice and he made it.
The bigger story though is about where the Knicks stand in mid-March, not about Melo's houdini act with the media. The loss means New York is just two games above .500 and back to wondering where they stand. Long gone are the thoughts the Knicks could actually challenge for the fifth seed in the East. Now they'll be lucky to hold off the charging (or at least prodding)
76ers
. The team stinks defensively and if their stars aren't starring, they're in trouble.
Toney Douglas
isn't going to go 9-12 from deep every night. I really hope that hasn't become the gameplan because if so, they're in worse shape than we thought.
But what we're all going to be talking about is how Melo "hid" in the bus, refusing to speak after the game. It looks bad. It sounds bad. Really, it probably
is
bad. We all like players that face the music, that hold their head high after a bad one. Melo instead tried to run from it. But like I said, it happens. You think Melo was happy with the way he played? You think he was really stoked about telling us how bad he played? So he decided to just sit this one out. Some will hold it against him and I can understand why.
But look on the bright side Melo. At least Mike D'Antoni didn't say you were crying on the bus. See, it could be worse.