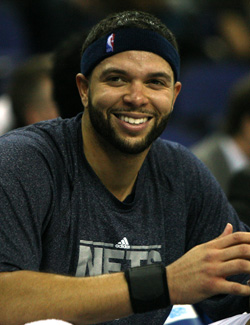 Posted by Royce Young and Ben Golliver.
Update (Sunday):
The New Jersey
Nets
decided not to totally throw in the towel and shut down point guard
Deron Williams
for the season, opting instead to sit him for three games before re-evaluating his ailing wrist.
Nets coach Avery Johnson
told the Associated Press
: "It's something that we know: rest -- not surgery -- is required. We'll treat him. We'll rest him."
Original Post:
The season could be over for Deron Williams. There's not a lot left, but after he tweaked his injured right wrist in the third quarter Friday night, there's talk he may just shut it down.
He was in a clear amount of pain and by the way he talked post game, he might be done.
"I love playing basketball,"
Williams told The Record.
"I hate sitting out. I hate missing games. It's tough for me because I don't just want to sit out. It might be the best thing, but we'll see how it goes."
Of course the Nets aren't playing for anything at this point and while they actually flirted momentarily with a late push for the eight-seed (seriously), they've dropped their last two basically ending hopes of a miracle run. The five straight wins though that put them in that position was encouraging though.
But with nothing to play for and the fact that more losses equals maybe a better pick, coach Avery Johnson didn't souind optimistic. He said after the game that he was "very, very concerned" about Williams' situation.
Williams strained a tendon in his wrist in January and missed a handful of games for the Jazz. It has been bothering him since that time.
"I can't shoot," Williams said. "I think about it every time I take a shot. It affects me mentally and it's weighing on me."
This season isn't the big one for the Nets and Williams anyway. This summer is huge in showing their new star they're committed to winning as he can become a free agent in 2012. But if a lockout kills 2011-12, maybe Williams played his last game with the Nets. It's possible I guess.