Los Angeles Clippers rookie forward Blake Griffin does it again, but gets called for a charge. Posted by Ben Golliver.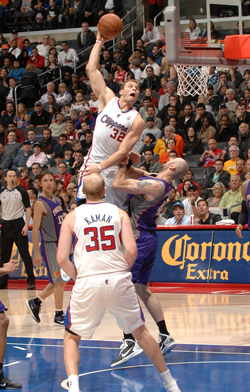 Absolutely no one could forget when Los Angeles Clippers rookie forward Blake Griffin used New York
Knicks
center
Timofey Mozgov
as a launching pad, hurtling himself up and over Mozgov to throw down a volleyball style spike dunk that was replayed ad nauseum for months. Really, it was the moment Griffin arrived as an NBA player.
Guess what? He did it again. Almost.
With the Phoenix
Suns
leading 97-84 late in the fourth quarter, Griffin slipped a high screen and roll with point guard
Mo Williams
at the top of the key. Cutting straight down the middle of the paint Griffin gathered himself as Suns center
Marcin Gortat
slid over near the protected circle. Griffin leaped without hesitation, using his left arm to boost himself well over Gortat and getting his right arm well, well above the rim.
Griffin then flung the ball down towards the basket with maximum force, looking much like Orlando
Magic
center
Dwight Howard
during his
Superman NBA Slam Dunk contest dunk
. The ball went through the hoop but the baseline referee whistled Griffin for a charge, much to his surprise and dismay.
Upon video replay, Gortat appears to have his heels off the ground and his toes outside the protected circle, so the call wasn't horrendous. Still, it robbed Griffin of another amazing highlight to add to his seemingly endless reel.
Here's the video
courtesy of YouTube user GetBangedOn
.
And here's Griffin's dunk over Mozgov for good measure
courtesy of YouTube user NBA
.
The Suns defeated the Clippers in Los Angeles, 108-99.