Los Angeles Lakers guard Kobe Bryant says he is proud of center Andrew Bynum's hard foul. Posted by Ben Golliver.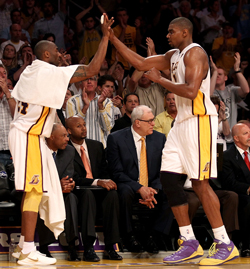 Over the weekend,
we noted
that Los Angeles Lakers big man Andrew Bynum was suspended without pay for two games by the NBA for a hard foul he delivered on Minnesota
Timberwolves
forward
Michael Beasley
. Bynum met Beasley in the air, made no real attempt on the ball and sent Beasley crashing to the floor. It was a play straight out of Rick Mahorn's playbook.
That type of mindless thuggery might rub some people the wrong way, but it didn't bother Lakers star Kobe Bryant. On the contrary,
reports the Los Angeles Times
, Bryant was pleased to see it.
Not all the Lakers were upset with the league's decision. "I'm proud of him," Kobe Bryant said of Bynum. "He earned his stripes."
Bynum is in a weird spot with the Lakers for two reasons. One: he's younger and noticeably less mature than the rest of the team's core. Two: he's almost always the biggest player on the court. That combination leaves Bynum open to all sorts of criticism from fans (and teammates) if Los Angeles gives up too many points in the paint or if the Lakers get outrebounded.
In short, Bynum is a big, easy target for criticism. If the Lakers don't own the middle, it's his fault.
Bryant's positive reinforcement of dangerous behavior isn't really the best look, but it makes sense in context because the Lakers, like most contenders, feel that interior dominance is the key factor to playoff success.
Pau Gasol
is who he is: long and lean, not strong and mean. Lakers forwards
Lamar Odom
and
Ron Artest
are great at physically dominating their match-ups and getting inside opponents' heads, but they're not capable of the kind of space-eating intimidation that Bynum is.
This situation, then, becomes less about the actual foul and more about the fact that Bynum showed he was capable of delivering some pain. Had this play happened in the postseason and cost Bynum multiple playoff games, the cheerleading wouldn't be nearly as loud. The excitement today comes from the idea that Bynum, perhaps, has a reputation now.
And, like it or not, reputations can influence players' decisions and, in turn, can influence games.