Jalen Rose says his critical remarks about Duke University were taken out of context. Posted by Ben Golliver.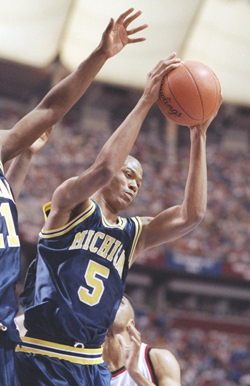 In this week's edition of the "story that won't go away", former University of Michigan basketball player and current NBA television analyst Jalen Rose has written a Wall Street Editorial in response to the criticism he received for making statements critical of Duke University in a recent documentary.
In case you've been living in a bunker for the last two weeks, Rose said in a documentary about Michigan's Fab 5 that he
thought Duke's players
were "Uncle Toms" when he was a teenager.
That led former Duke basketball player
Grant Hill
, who was called a "bitch" in the movie, to
respond in a New York Times editorial
by calling the movie was "a sad and somewhat pathetic turn of events." Hill didn't, however, acknowledge that Rose was speaking about his past feelings rather than his current feelings. Former Duke player
Elton Brand
also weighed in,
calling Rose's comments
"ignorant" although he appeared to realize that Rose was speaking about his past feelings.
In
his Wall Street Journal editorial
, Rose said that his comments about Duke "were completely taken out of context", although he didn't specify by whom or call out Hill by name.
Addressing the elephant in the room, comments from the documentary regarding Duke University were completely taken out of context. I respect the success of Duke's program and stated this was my opinion as a teenager growing up in the inner city of Detroit. I also acknowledged that Grant Hill had something I wanted growing up – a successful family. It's a bit disappointing some people insinuated I think black people from successful families are Uncle Toms. What made the documentary must-see TV is the fact we showed brutal honesty and addressed every topic head on and without reservation.
This clarification wasn't really necessary for those who paid attention to what Rose said and actually watched the documentary, but after this story took hold and picked up sensationalistic steam Rose likely felt that he had no choice.
I'm not sure what the lesson here is except that Rose demonstrated that he is much more equipped to get his message out now as a media professional than he was 20 years ago as a young player.
Deadspin summarized it nicely
by concluding that the entire series of events simply proves that Rose is "part of the system now." On some level, that represents progress.