The Rockets have turned things around and are playing well enough to contend for the playoffs.
Posted by Matt Moore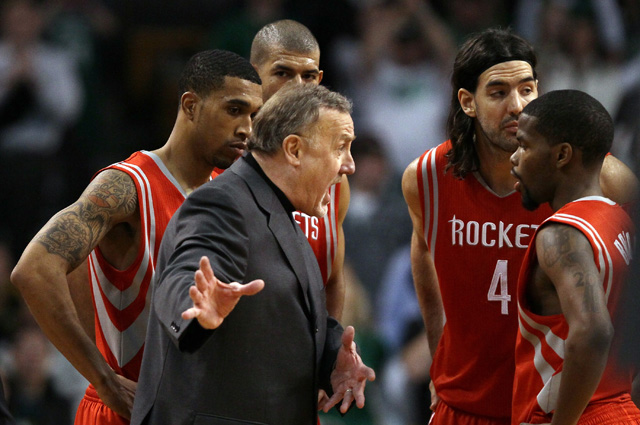 Going into the trade deadline, the Houston Rockets were stuck in neutral. They had started the year with a great deal of promise: a young team with a few established veterans, a seven foot monster in the post when healthy, a terrific, versatile power forward and some good talent. They were in a position to re-enter the race for the Western Conference. Then, it all fell apart. By the time the deadline had rolled around, they were a sub-.500 team who couldn't seem to make any significant progress, and were a mess defensively. Before trading
Aaron Brooks
and
Shane Battier
, two of their better players, the Rockets had a defensive efficiency (points per 100 possessions) of 107.8. That's Warior-like, fourth-worst in the league stuff.
It was a boggling development for a team that isn't loaded with offense-first chuckers. Rick Adelman's teams have historically been solid defensively, and this team features competent role players and guys with enough experience to know how to execute. And yet, there they were, getting burned defensively game after game. As a frame of reference, the Rockets have not won a game versus the other two teams in Texas this season. Kind of rough when the Rockets have played them six times already.
But since moving those players and getting really only
Goran Dragic
back? Everything has clicked for the Rockets. They've won 11 of their past 14, have moved up to the ninth spot in the West and are closing fast on Memphis, and their point differential has landed them seventh in the West. In short, everything's coming together. The key to their newfound success is two-fold. One, their defense has risen not only to acceptable levels, but is drowning teams. And two,
Kyle Lowry
has made a phenomenal jump in production.
Defensively, starting with Houston's game against the
Nets
in their first contest after the deadline, it has gone from a team giving up 107.8 points per 100 possessions, to just 102.5. That's an improvement of 5.4 fewer points allowed per 100 possessions. To put that in perspective, had the Rockets' maintained that defensive production the entire season, they would be the ninth best team in that category, tied with Philadelphia, and this is after an abberation-like 110 defensive efficiency surrendered to the
Jazz
Sunday. The improvements have come across the board. They're allowing a lower effective field goal percentage (factoring 3-point shooting allowed, from 50.5 to 47.7 percent), are turning their opponent over more often, and surrendering fewer fouls. Watching them, it's not just their intensity and effort that has improved, but simple things. Players are responding to one another better in help defense, taking better angles, playing more sound and giving more effort. In short, they're gelling at the exact right time.
An interesting side note: Since the departure of known defensive artist Shane Battier, two young wings are getting considerably more time. In March, rookie
Patrick Patterson
and second year man
Chase Budinger
both saw substantial increases in their per-game minutes. Adelman's move to longer, more athletic lineups runs counter to the basic thought that to improve defensively, you need to rely on veterans. Instead, Adelman's using the length and athleticism he has at his disposal.
The Rockets' offense has not tailed off during this streak since the deadline, as they are scoring more efficently (up 1 percent in offensive efficiency). They are shooting slightly better and getting to the line a touch less. In short, offensively, they haven't really improved considerably, but they've maintained their success (currently 8th in the league offensively). And that has been in large part due to Kyle Lowry.
Lowry is averaging ridiculous numbers in March, and has led fans to wonder if the star Houston has been looking for is emerging all on his own. From Rockets blog Red94:
Lowry, for all of his five years in this league, is but a wee 24 years of age his 25th birthday will come in four days. He is entering that prime that we all write about mystically, reverently. The initial reports on said prime? Remarkable. Lowry's March has been one for the ages, including averages of 20.4 points on 50% from the field and 46% from three, 7.9 assists and 5.3 rebounds; tack on a couple assists, and those are Chris Paul numbers. This month of madness culminated in Sunday night's struggle with the Jazz in which Lowry posted his first triple-double, leaving a stunned Rockets fanbase with more questions than ever. He can't keep doing this, can he? Has he actually found his stroke, or could this be more fool's gold? Wait, that really good little kid is already 25?
via
Kyle Lowry Might Be the Star the Houston Rockets Need | Red94 | essays and musings on the nba and houston rocket
s.
As Zach Harper puts it, "Kyle Lowry Over Everything" (or, "KLOE"). Lowry is initiating things, forcing the issue, and more than anything, has found his long-range stroke. Before the season, looking at Lowry's perimeter numbers, it was stunning how bad he was. He would often hoist 3-pointers in transition, but knock them down at a terrible rate. This season, his overall 3-point percentage is up 11 percentage points to 38 percent and he's shooting 35 percent in transition from the perimeter. He's more aggressive, showing better vision, and turning the ball over less.
The question will be whether Lowry can sustain this production and become the building block for the future kind of star they need. But in the meantime, the Rockets are just glad to be be back in the race. With the
Grizzlies
facing a ridiculously difficult schedule until the end of March (games against Utah, Chciago and Boston in the next week alone), Houston has a great opportunity to make a run for the playoffs. After a season stuck in neutral, the Rockets have found their gear.