Posted by Royce Young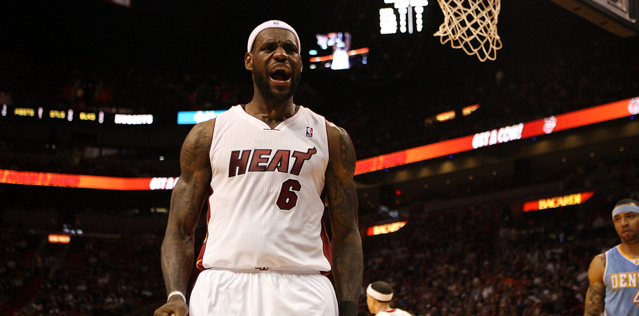 Post-Decision,
LeBron James
was not popular. He had become the new villain, the new guy to boo and root against. The numbers even confirmed it. According the Q Scores Company in September, only 14 percent of people polled thought of LeBron positively, while 39 percent thought of him negatively.
And if you recall, there was some difference in those numbers between white and black people, so we all had a couple weeks of trying to "figure that out."
But just like he predicted, LeBron's image has improved.
According to Q Scores today,
17 percent of the general population polled saw LeBron positively (a 21 percent jump), while his negative rating dropped six digits to 33 percent.
Not a jaw-dropping swing, but an improvement nonetheless.
It's been quite a swirl of PR for LeBron since the disaster of "The Decision" though. Recovering from that has been a challenge, but little things like his "What Should I Do?" commercial combined with the
Heat
actually playing fairly well, have helped. Everyone likes a winner and the Heat are a pretty good team.
He tried to be the villain but he's just not that type of player, or person. The reality is, LeBron wants to be liked. He wants to be revered in the same way Michael Jordan was. He wants every kid wearing his jersey, donning a headband just like him and maybe even shooting ridiculous 3s at the worst possible moments like him. (Well, maybe not that last one.) That was the whole point of "The Decision" -- to raise his profile. He wants to be a global icon, not a global villain.
Time heals things like this and in a couple years, LeBron will be back to a fairly well-liked player. Probably not in the way he was in Cleveland or ever to Jordan's level, but win some, play great and get further away from your terrible Decision, and people will forgive and forget. It's the way it works.
Fact is, LeBron is an addictive basketball player. He's impossible not to watch. He's not overly charismatic or likable -- he's never been those things -- but his talent alone is remarkable and makes him someone that you can't just push aside and ignore. So nights where he drops a line like 35-12-11, you have to just nod and say, "Wow, he's great." And people admire greatness over silly decisions and one-hour specials. We're a weird group like that.
On top of that, while LeBron might not be "popular" in the eyes of the population polled by some weird company that determines such things, he couldn't be more popular in the sense that we all can't stop talking about him. If his name is attached to anything, we're talking about it. I'm writing about it. And if I'm not writing about it, someone is yelling at me because I need to be writing about it. LeBron is one of the major focuses of the sports world and someone that is constantly present in the conversation.
So in a general sense of popularity, LeBron still might be viewed negatively, even if his so-called score improved. But in terms of how much we talk about him, I don't think that's dipped at all. If anything, it's just increased. I mean,
did you see this story?