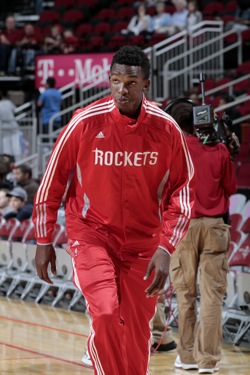 Posted by Royce Young
Back to the D-League for
Hasheem Thabeet
,
via the Houston Chronicle.
Not exactly a sentence you expect to write about a former No. 2 overall pick.
Thabeet, who was acquired from Memphis in a trade for
Shane Battier
, is on his way to the
Rockets
' D-League affiliate the Rio Grande Valley Vipers. He wasn't expected to make an impact with the Rockets and after playing only four minutes with his new team, a trip to the D-League is the only way he's going to see the floor.
Thabeet is just the latest example that if you're 7-3 and can block a shot, you can get an NBA contract. Thabeet was the highest ever pick assigned to the D-League when the
Grizzlies
sent him down last year. Now he's the highest ever pick assigned twice.
But the thing about Thabeet is, and will always be, that you can see the potential. Not for greatness or anything, but the skill and instincts are there. He has ability. He's horrific offensively, soft inside, doesn't rebound well for his size and just gets in the way offensively, but in terms of protecting the rim, he's pretty good at it.
Development has always been the buzzword for Thabeet and in Grande Valley it won't be any different. He really has a lot to improve on but if he realized it, he could be a decent NBA player. He won't ever be worth the No. 2 pick, but a decent backup center, he could be.
It's easy to root for Thabeet because he's a good guy and by all accounts, has a work ethic. He just hasn't put anything together yet. Another trip to the D-League probably won't change that much, but at least he'll actually see some floor time.