Tim Duncan is out for a while, but is that the least of the Spurs' problems?
Posted by Matt Moore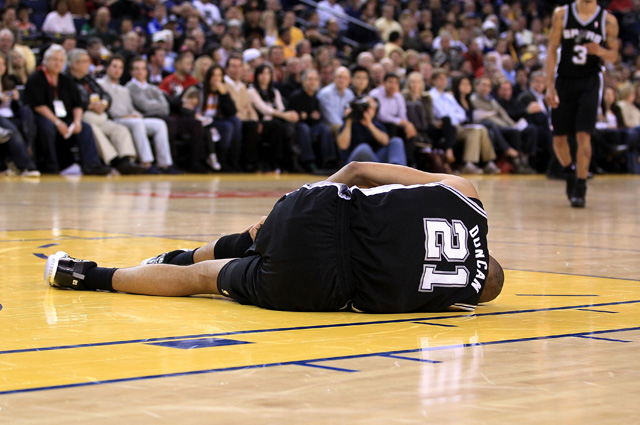 It seems like everything's fine in Spurs World. Sure there were a few losses to the
Heat
and
Lakers
, but they've been blasting teams just the same. They're going to finish with well over 60 wins. They blasted the
Warriors
into smithereens on Monday night by 15. All's well with San Antonio, and it's just a matter of resting up and getting ready for the playoffs.
Yeah, about that.
Let's start with the news that Tim Duncan will be
out for a "while" according to the always-effusive
Gregg Popovich after spraining his ankle. X-rays were negative for Duncan's ankle but the fact remains that the Spurs will be finishing the season, save possibly a handful of games with their Hall-of-Fame power forward. Then all they have to do is get his conditioning back to NBA-level, re-establish chemistry and rotations that might have shifted with him out and hope that he doesn't suffer any more trouble in a 34-year-old body that's played 1,745 games in its career.
But that's not the real issue. Duncan's had physical problems before, nearly every season. The real question is whether this Spurs team peaked too early.
The winner of the NBA championship is rarely the best team the entire season. It is often times the team that was the best, consistently, throughout the course of the season. But there are peaks and valleys. The Lakers and
Celtics
both struggled in the second half of last season. We're not talking "didn't look like world-beaters." We're talking "didn't look like Bobcat-beaters." But they always do find their groove at the right time, which is, you know, the playoffs. Otherwise they wouldn't be champions. The Celtics managed to instantly manifest themselves as contenders in the playoffs. The Lakers showed late-season signs of life before rolling over the West on their way to the title. The Spurs? They looked nigh-on unbeatable in December, but as the season progresses, they seem to be limping to the start of the second season. And I'm not just talking Duncan's ankle.
For example, the Spurs have been 24-12 this season against playoff teams. But they are just 5-5 in their last 10 games against playoff teams. In their last eight games against playoff teams, they have a negative efficiency differential (they are being outscored by their playoff opponents per 100 possessions). Perhaps you're thinking that's just the result of the 110-80 loss to the Heat. But in reality, in those last eight playoff matchups, they had a negative efficiency differential in four of the contest. When they were successful, they outscored their opponents by 12.6 points per 100 possessions. When they were not, they were outscored by 19.7 points. Here, try this one. Let's throw out both Heat games, one a dominant Spurs laugher and the other an embarrassing Heat blowout. The result is that in their last six games against playoff opponents non-Heat, when they win, they outscore the other team by 6.1 points per 100 possessions. When they lose, they are beaten by 15.5 points per 100 points.
But those are just numbers, really. They can be spun anyway, and who cares if the Spurs haven't been dominant in what is customarily a coasting period. But the same concerns are present in their play. The Spurs have taken their high-octane offense, good-not-elite defense approach as far as they can, and now have to become something else. Instantly. A team which features
George Hill
, still relatively inexperienced, and
DeJuan Blair
often starting and
Matt Bonner
as their fourth big in the rotation has to become a defensive stalwart. This team is often spoken of as if it resembles those championship teams, but the makeup is wholly different outside of Duncan, Popovich, Ginobili and Parker. The core is the same, sure, but one of the central structures of those teams was a series of veteran wing defenders. Those wing defenders have been replaced by a core of bigs including Bonner, the aging aged
Antonio McDyess
, and the inexperienced
Tiago Splitter
, still working his way into the rotation.
The Spurs are obviously a contender for the NBA championship. You can't win that many games and not be one. But at some point, the question has to be raised whether they peaked sometime in the NBA's hidden months or whether they have that extra gear that defines championship teams. It would be some sort of bizarre twist of fate if the best regular season team of the Popovich era was also unprepared for the postseason. That would be interesting, humorous, and it is definitely not something you want to bet on. But the question is there.