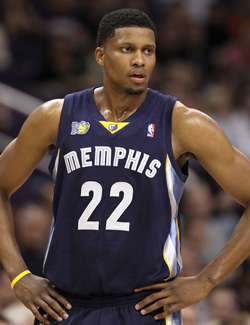 Rudy Gay will miss the rest of the season after shoulder surgery.
Posted by Matt Moore
Rudy Gay has been on the shelf for a while with a shoulder injury. First he was expected back in two weeks. Then it was taking longer than expected, and it turned into a month. Now, his season is over.
The
Memphis Commercial-Appeal reports
that after a second opinion was sought for Gay in Alabama from a shoulder expert, Gay has told the paper that his season is over, as he'll need surgery.
Have I mentioned that the
Grizzlies
gave Gay a five-year, $84 million contract this summer? Have I mentioned that the Grizzlies are looking to reach the playoffs for the first time since the departure of
Pau Gasol
? Have I mentioned they're still chasing their first playoff win for Memphis? Have I mentioned the team is finally in a place to have consistent efforts and contributions from multiple positions on the floor, from the bench, and on both sides of the ball?
This news is the kind of momentum killer that ends seasons. It'll be up to players like
Tony Allen
,
Shane Battier
,
Zach Randolph
, and new leader
Mike Conley
to keep the ship right, in the face of an extremely difficult schedule, a rising
Rockets
team only two games back, and missing their best player. Zach Randolph may be their biggest star and their most important player, but Rudy Gay was capable of attacking from ther perimeter with jumpshots and attacking the basket, snatching rebounds, starting the break, creating steals, distributing, and rising for cltuch shots. Without him, they are a dangerous team with a good defense, veteran leadership, an All-Star caliber forward, and good chemistry. But without him they also lack the kind of star needed to make pushes in the playoffs. Their odds were not good in a likely matchup with San Antonio.
Barring one of the most shocking runs in the history of the NBA, the Grizzlies have had a firm cap put on their season, once again. Them's the breaks.