Milwaukee Bucks guard Michael Redd expects to play on Friday after missing more than a year after undergoing knee surgery. Posted by Ben Golliver.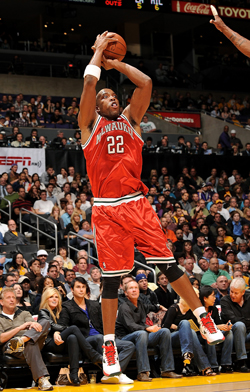 January 10, 2010. That's the last time Milwaukee Bucks guard Michael Redd stepped on an NBA court.
The Associated Press reports
that could change on Friday, as Redd hopes to make his return after a lengthy rehabilitation following knee surgery.
Milwaukee Bucks guard Michael Redd participated in practice Tuesday and is planning to play Friday in New York after missing the last 14 months following knee surgery. Redd says he feels great, but will not play in Milwaukee's game on Wednesday night against Sacramento.
Although it feels like forever and a half ago, Redd averaged more than 20 points per game every season from 2003-2004 until 2008-2009, when he injured the same left knee that he injured last season.
At the peak of his powers, Redd was an excellent outside shooter who possessed the ability to score in a variety of ways. In other words, a legit No. 1 scoring option. The big questions now: after multiple knee surgeries and more than a year away from the game, how much does Redd have left and how quickly can he return to productivity given that there are only a few weeks left in the regular season?
One thing that's not a question: the Bucks are desperate and can use any offensive help they can get. Currently, the Bucks are 29th in the league in offensive efficiency, dead last in raw scoring and just 10 days removed from scoring only
56 (!) points in an entire game
against the Boston
Celtics
. Despite that, Milwaukee is just two games back of the No. 8 seed in the Eastern Conference playoff chase. As crazy as it might sound, given these circumstances, Redd could possibly be a difference-maker.
Don't get it twisted: I'm not setting a high bar for expectations. It's more than possible that the Bucks might be better off continuing with their current rotations rather than waiting for Redd to work his way into game shape. But it's reasonable to imagine a best-case scenario that sees Redd being a value-added situational spot-up jump shooter and floor-spacer off of Milwaukee's bench. With his contract expiring this season, he's got every motivation to show those around the league that he can still be serviceable in that role.
There is one major positive sign: the AP notes that Redd says he has lost 25 pounds, an amazing number given that he's only 6'6". That loss of weight will certainly make things easier on his knees and should let him get every ounce of mobility that he's got left.
Given his age, 31, and the circumstances around the injuries, it's no small feat that Redd has made it this far. His return, whether or not it impacts Milwaukee's playoff chances, should be applauded regardless.