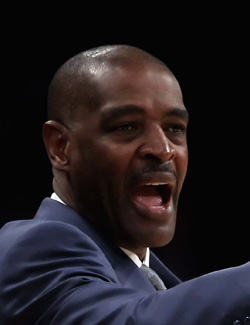 Larry Drew might already be on the hot seat with the way the Hawks have underperformed and are now melting down.
Posted by Matt Moore
If it ain't broke, don't fix it. If it's only slightly broke, you had better be sure you don't fix the wrong part because you could lose to the
Bulls
by 30 at home.
After Tuesday night's pathetic performance against the Bulls, the
Atlanta Journal Constitution
wonders if first-year head coach Larry Drew isn't already on the hot seat.
This is why you don't promote the nice-guy assistant. Because the players who've known him only as the nice-guy assistant will quit on him. And if you think the Hawks are still playing hard for Larry Drew, how are we to explain the misdoings of the past three weeks?

The Hawks have lost six home games in 18 days. (By way of comparison, they lost seven home games all last season.) Only one of these six losses has been by fewer than 13 points. Average margin of the six losses — 17.2 points.
via
Another home blowout tells us the Hawks have quit on Drew | Mark Bradley
.
Hawks fans at the blog Peachtree Hoops are feeling similarly frustrated with Drew:
This past off season, Atlanta changed directions at coach by not really changing. I think Larry Drew is a great person, a great basketball man with a great basketball mind. He is willing to try and answer anything that you ask him before games and I think has attempted to put up a good hard working front while the building is crumbling in around him. I think he is a deserving head coach but I am not positive that he is the different voice that this team needed.
via
Chicago Bulls 114, Atlanta Hawks 81 Or This Is Embarrassing - Peachtree Hoops
.
Firing Mike Woodson was kind of perplexing to begin with. Despite being under fire nearly every season, he helped the team improve in win totals progressively, taking them from a laughing stock full of young players to a team that swept the
Celtics
in the regular season last year and would have had a better time of it had it not ended up in a terrible series of matchups against first motivated and desperately emotional Milwaukee and then matchup-advantaged Orlando. It got beat badly by Orlando... because Orlando was really good. Yes, the team had stagnated and change can be the thing that puts your team over the top. But Woodson looks pretty good after the debacle Tuesday night. Meanwhile, it was management's decision to re-sign
Joe Johnson
for more than he would be worth. But the fact remains that the Hawks have two All-Stars and a third very good near All-Star (
Josh Smith
) along with solid players like
Kirk Hinrich
and, well, every other game,
Marvin Williams
. But the Hawks have looked sporadic and confused for most of the season. What's worse, they seem to have lost their identity.
And it may take a coach with a stronger sense of what he wants from his team to help them find it again.