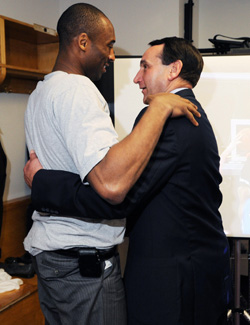 Coach K nearly went to the Lakers in 2004. Is there a chance he takes a second look in 2011?
Posted by Matt Moore
In 2004, the Lakers came calling on Coach Krzyzewski for head coach. It didn't work out, the Lakers hired Rudy Tomjanovich, Phil Jackson returned in 2005, in 2008 they got
Pau Gasol
, wam bam, possible three-peat, ma'am. But on Wednesday, Coach K spoke to the media, and revealed that the closest he's ever come to leaving Duke was to take over the purple and gold.
On Wednesday, during a news conference leading up to the NCAA West Regional at Honda Center, Krzyzewski, 64, again reiterated his love for Duke and said he's not interested in leaving. However, he did say that of the three times he almost left to coach in the NBA, the Lakers' offer was the one he took most seriously. "They were great with me," he said. "I could not give up what I've got, what I have at Duke. It just wasn't worth it."
He added: "I'm good with where I'm at, I'm too old to do anything else."
via
NCAA tournament: West Regional notebook - latimes.com
.
K is an indication at Duke. The mere thought of him pacing another sideline, without the Crazies is baffling. But let's go ahead and put this out there. Should Duke win yet another national championship this season, which is infinitely possible, granting K the opportunity to walk out on top, and should Phil Jackson hold true to his word of walking after this season, leaving a remaining championship roster of
Kobe Bryant
, Pau Gasol,
Lamar Odom
,
Andrew Bynum
,
Ron Artest
,
Derek Fisher
,
Matt Barnes
, the list goes on and on...
Well.
Dr. Buss gets an all-world coach who fits the high level of prestige necessary to coach a team like the Lakers. Coach K gets a veteran, established championship-worthy roster to make the jump to the NBA, ensuring a smooth transition instead of risking failure. Kobe Bryant gets a coach he respects and has played for in the Olympics. Makes a lot of sense, right?
But if Coach K doesn't want it, he doesn't want it. Sometimes comfort and legacy outweigh ambition and opportunity.