Duke University was bounced out of the NCAA tournament, but Blue Devils point guard Kyrie Irving should still be the 2011 NBA Draft's No. 1 pick. Posted by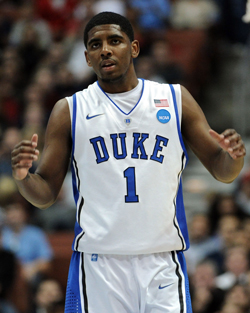 Ben Golliver.
The Arizona Wildcats bounced the Duke Blue Devils from the NCAA tournament on Thursday with a resounding 93-77 victory. The blowout nature of the loss and the disappointment of not repeating will likely bring about a lot of questions for the Blue Devils. Would Duke have been better off leaving point guard Kyrie Irving, who had missed months with a toe injury, out of the rotation? Should Irving come back for another season to exact revenge after such a disappointing defeat?
One thing that shouldn't be questioned: Irving, who finished with a team-high 28 points, three assists and a steal in 31 minutes off the bench, should be the No. 1 pick in the 2011 NBA Draft if he decides to declare. While he wasn't the best player on the court on Thursday night -- that honor goes to dominant Arizona forward Derrick Williams, who put up 32 points, 13 rebounds, two assists, two steals and a block, plus some insane highlight-reel dunks -- he is the best pro prospect, the smart money pick at the top of the board. Here's three good reasons why.
1. He has a position and it's an impact position
Iriving -- listed at 6'2" and 180 or 185 -- has solid size for the point guard position but, more importantly, he is equipped with the mentality that separates the league's best young point guards from the pack. He's opportunistic, he understands the importance of an offensive system and he isn't afraid to call his own number -- all in one package.
There's no concern here, as there is with countless other prospects, about whether he's a combo guard, a swing forward or a two-position/no-position post player. He is a point guard in size, skillset and temperament, at least by our modern definition which requires the floor general to be able to fill it up when necessary too. Ask the Chicago
Bulls
, Oklahoma City
Thunder
and New Orleans
Hornets
how important that combination is to team success.
2. He can shoot and he exercises good shot selection
Efficiency is one of those late-developing traits, an ability that sometimes just never shows up. While Irving does need to clean up some issues with his turnovers, his 9-15 shooting from the field on Thursday was typically excellent, bolstered by his ability to get to the foul line nine times as well. Irving has an innate ability to understand what's a good shot and the restraint to lay off lower-percentage looks that you don't often find from a player his age. This will speed his transition into the NBA game and also, I think, make him a bigger impact player more quickly than some might give him credit for because he's not a jaw-dropping, freak athlete.
3. Defensive intangibles
Arizona's guards got off a little bit on Thursday, but there was plenty to like from Irving's defense. He's quick side-to-side, he's comfortable picking up ball pressure well outside the college three, he trusts his positioning and he doesn't succumb to "happy feet". Off the ball, he's an active participant in defensive schemes, calling out switches and talking regularly. He shows a commitment to leadership on both ends that you don't often see. He's also just a generally "locked in" player who will have the ability to command respect.
Final Thoughts
Houston
Rockets
GM Daryl Morey recently said that his team considers flaws as much as it does strengths in evaluating prospects. Irving is simply absent of the most common flaws that trip up prospects. As discussed, there are no questions about his position, his intelligence or basketball intelligence, his commitment, his body, or his work ethic. And then, on top of that clean package, he's a player that can shoot and seems to enjoy working hard on defense. There's too much to like.
Irving's flaws -- whether he lacks
John Wall
's open court ability or
Derrick Rose
's strength -- are relatively small, of the nitpicking variety. At the top of the draft board, a guaranteed home run is a better play than a potential grand slam. Irving is a guaranteed home run.