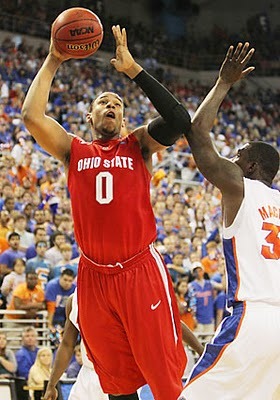 Posted by Royce Young
A lot of players have said they're coming back to school following a tough loss in the NCAA tournament.
Kevin Durant
.
Greg Oden
.
Jonny Flynn
. It happens. But Jared Sullinger's declaration last night after Ohio State's tough loss is a bit different.
"I'm gonna be here, gonna be at Ohio State next year,"
Sullinger told Matt Norlander of CBSSports.com.
"I made this decision today, and I'm a man of my word. I don't go against my word. If I tell somebody I'm going to do something, I'm going to do it."
Well then. If we're to take Sullinger at his word, that means a certain top five pick has just been taken off the board. Why would Sullinger come back? Because as he says, he doesn't want to go out on a loss. Of course some are wondering if the uncertainty of the next NBA season has anything to do with it, but that wasn't part of the questioning last night.
What this means is that Derrick Williams is certainly a bit more pumped. Like I said, Sullinger was a top five pick and likely the first big man coming off the board. Now that honor goes to Williams. Lucky for him. Then again, he may be earning it regardless with his stellar play in the NCAA tournament.
Most projections have Sullinger somewhere between two and four right now. For teams that were definitely eying him like Cleveland, Toronto and New Jersey, this is quite the bummer. This draft just got a lot thinner at the top without Sullinger in it.
That is of course, if he sticks to his guns. Once the emotion of the loss finally settles and he gets a whiff of what his future could be, he might change his mind. But maybe not. Some guys just like college. The NBA can always wait another year. Remember,
Blake Griffin
played two seasons at OU and he was all the better for it. He was much more prepared to make an immediate impact in the NBA.
The freshman averaged 17.1 points and 10 rebounds per game this season for the Buckeyes, who spent the majority of the season ranked No. 1 in the polls and were the No. 1 overall seed in this year's NCAA tournament. He's a bit undersized at 6-8, but he's a wide body with great touch around the basket. Plus he clearly works hard on and off the court and by all appearances, is a great kid. He would've made some general manager very happy. Too bad though.