Posted by Royce Young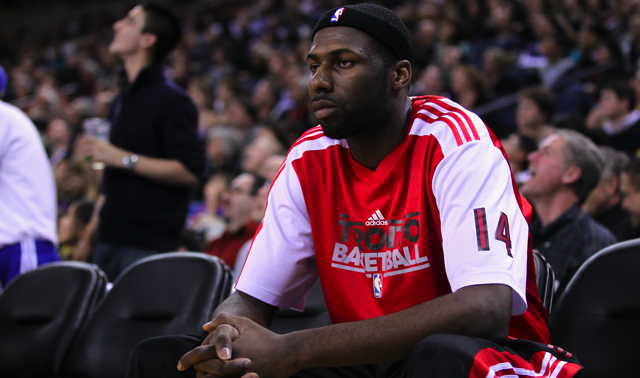 It hasn't been a swell season for the Toronto
Raptors
. It's not like they were consistent contenders in the way the Cavs were, but without
Chris Bosh
, they've had some problems.
Problems winning that is.
The latest example was the beatdown the
Warriors
put on them Friday. Golden State whooped the Raptors 138-100, meaning the
Brian Scalabrine
All-Stars were about to have their chance. Jay Triano was ready to empty his bench.
And during the
third quarter
Triano went to forward
Julian Wright
to check in, but a weird thing happened: Wright refused.
"I just went to the next guy,"
Triano told the Toronto Star
.
"I wasn't going to ask him twice."
"I asked him to go in, and he didn't go in," Triano continued. "I know he went to the washroom just before that. I don't know if he wasn't feeling well. I still haven't talked to him."
According to the Star, there was no feeling ill to it. Wright just hasn't been happy with his playing time and didn't want the scrub minutes. Face, Triano.
"Everybody knew [Wright] was mad on the bench," a source told the paper.
The Raps could technically discipline him under the umbrella of "conduct detrimental to the team," but we'll have to wait and see. Whether that's a suspension or just a fine, I'm sure Wright will get a talking to. If you were wondering, Wright is a restricted free agent this season and found his way to Toronto by way of New Orleans in a trade that sent Jarrett Jack to the Hornets.
After the game, Wright left it open for discussion. "I don't want to talk about it," Wright said. "Speculate on anything you want."
Anything? OK, how about this, I think Wright didn't want to go back in because he was embarrassed about his basketball ability. No, not that. Wright turned down Triano because he knew he would guard David Lee and didn't want that gash in his arm to touch him. Or maybe Wright didn't want to play because he was following the Kentucky-Ohio State game on his phone and didn't want to miss anything.
Or most likely just because he was ticked about his playing time and decided to throw a fit. Yeah, that's probably it.