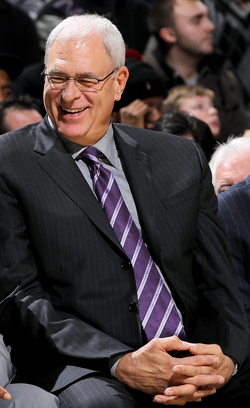 Posted by Royce Young
If (or when, most likely) the Sacramento
Kings
move to Anaheim, Phil Jackson will be retired. Supposedly. At least according to him. So you'd think he might not care too much about a third NBA team coming into an area already absorbed with the
Lakers
and to a much lesser degree, the
Clippers
.
But he doesn't see it as a good move. Not at all as he was asked by reporters before the Lakers' game Friday.
"What other metropolitan area has three teams in it?"
Jackson said rhetorically to the L.A. Times.
"It's ridiculous to put another franchise in this market. It just doesn't make sense to do that."
Hard to argue with that. Bringing the Kings to Anaheim would put them just a few miles from the Clippers and Lakers and most likely, the Kings would be battling for fans in the area. There was a little talk of moving the
Hornets
to Chicago when the NBA first purchased them but like this, most agreed having even a second team in that city doesn't make sense.
As it stands now, Los Angeles is the only city with two NBA teams in it. Soon New York will have two when the
Nets
move to Brooklyn, but three in one area is just crazy. Without
Blake Griffin
, the Clippers have already been dead with its fanbase, struggling to sell tickets. And with Griffin and the Clips now picking up steam, that would mean even less attention to the new team in town.
Like Phil said, stupid idea people.
Still, doesn't matter what smart people like Phil Jackson say. The Maloofs seem committed to taking their team to Anaheim and the Honda Center. It really feels like a decision they'll regret eventually though. If they want to check out of Sacramento, there are a lot of great markets to explore. Problem is, the best one (Seattle) has the same issues Sacramento does.
Arenas are a pain, aren't they?