New Jersey Nets guard Deron Williams says that he tried and failed to recruit players to play for the Utah Jazz. Posted by Ben Golliver.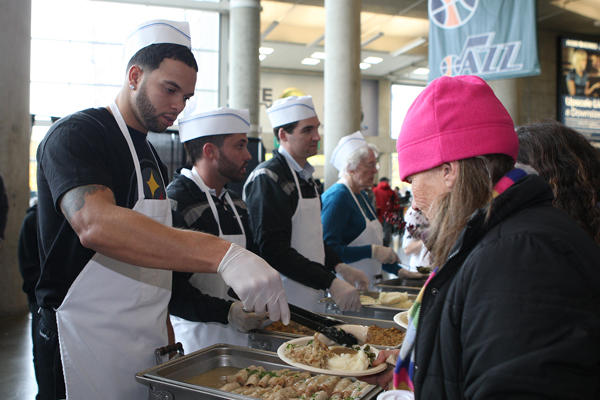 One of the NBA's great marketing successes of the last decade has been the degree to which it has encouraged its teams to engage with and give back to their local communities. But behind all of the NBA Cares commercials is a bleak reality: not every NBA market is created equal in the eyes of its players, a fact that is getting more evident by the year as the league's stars continue to flex their considerable influence in determining where they play.
The case of New Jersey Nets point guard Deron Williams is particularly telling. Williams was said to be frustrated in Utah and seeking a move to the New York
Knicks
in the future. However, once the Jazz came to terms with his long-term lack of commitment to their organization, they quickly moved Williams to the New Jersey Nets prior to the trade deadline.
One byproduct of that trade? Williams is now free to speak honestly about the situation in Utah. He doesn't paint a pretty picture,
admitting to the New York Daily News
that he couldn't convince anyone to join him in Salt Lake City.
"That was the hardest thing for me," he says of playing recruiter for the Jazz. "I tried every summer. I played with the best guys year after year and guys that were becoming free agents and asked if they wanted to come play with me and they're like, 'In Utah?'"
"I tried to tell people it's a great city. If you want to go out and party every night, it's not where you want to be. It's a clean city. There's a lot to do for families. The fans are great. Great foods. Great restaurants. The only thing it didn't have is partying."

While that statement doesn't paint the average NBA free agent in the best light, it's an even harsher (yet accurate) assessment of the reality facing many small-market teams who compete for the same free agents year after year. Any player worth a damn who reaches free agency will have the same offer available to him from multiple teams. Williams' point is that the Jazz, who have been a model franchise for decades, simply lagged behind in a crucial tie-breaker that they will never be able to remedy: desireability of location. Given recent trends, it's virtually impossible to argue with what he's saying, as desireable cities -- New York, Los Angeles, Miami, Chicago -- have stockpiled the best talent.
The Sacramento
Kings
' proposed relocation to Anaheim will make for an interesting test case of Williams' analysis. The analysis regarding Sacramento's expected move to Southern California has largely focused around the team's desire to play in a slightly better building and to reach a much larger television audience, but isn't it possible that the Kings would instantly become bigger players in the free agency game simply by virtue of a new zip code? The Kings will have plenty of cap space this summer, a young core in place to build around and will no longer be in an NBA backwater, instead playing within spitting distance of one of the world's most idealized cities. That should seriously help them land someone big this summer or next summer, right?
In any case, Williams' talk is indicative a fundamental imbalance, and it's a part of the league's push in its recent labor negotiation rhetoric towards leveling the playing field for all 30 teams. While the NBA can't make Salt Lake City's nightlife more enticing, it can certainly do a better job of helping small-market teams retain their best players and compete for free agents.