New Jersey Nets owner Jay-Z spent Sunday night celebrating with the University of Kentucky after the team secured a trip to the Final 4. Posted by Ben Golliver.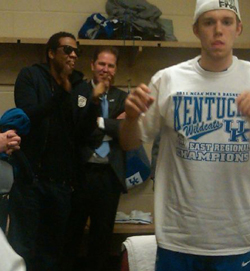 As the University of Kentucky Wildcats were celebrating a 76-69 victory over North Carolina that sent them through to the Final 4 on Sunday,
the Louisville Courier-Journal reports
that the team was greeted by an unexpected visitor: rapper and New Jersey Nets co-owner Jay-Z.
Jay-Z, a Brooklyn, N.Y., native, is a partial owner of the NBA's New Jersey Nets. UK spokesman DeWayne Peevy said his visit to the UK locker room wasn't planned in advance.
Peevy wasn't certain if the rapper had been in the stands for the game. He was waiting in the hallway as UK players returned to the locker room after the game, and players were caught by surprise.

"I said, 'Oh that's Jay-Z!' " forward Terrence Jones said. "We all gave him a handshake and he came in the locker room, and we just kept screaming 'Jay-Z in the locker room!' He congratulated us, just said he was proud of us."
When your team is headed for its fifth straight trip to the NBA Draft Lottery, you might as well get an early start on getting to know your future players, right? Kentucky has two potential lottery picks -- guard Brandon Knight and forward Terrence Jones -- this season after becoming the first program to ever produce five first round picks in 2010. That locker room would be a pretty awesome place to be if you're a fan of basketball, especially if you're a fan of basketball
and
happen to co-own an NBA team.
I can understand Jay-Z's desire to hang out with winners for a change, but this seems like it should be against some NBA protocol or another. While it's not that big of a deal -- certainly nothing compared to the New York
Knicks
illegally working out recruits --intentional contact between an NBA owner and future NBA players while they're still in college just months before the draft screams competitive advantage and slippery slope. What's next? Kentucky wins the title and Jay-Z greets them with an Ace of Spades shower and a rainstorm of 100 dollar bills?
In 2007, Boston
Celtics
GM Danny Ainge was
fined $30,000 by the NBA
for "excessive contact with the family" after sitting with
Kevin Durant
's mother during the Big 12 tournament. What does that make Jay-Z guilty of here? Excessive dapping?
Photo of Jay-Z in the Kentucky locker room via YFrog .