Would the Toronto Raptors consider trading big man Andrea Bargnani? Posted by Ben Golliver.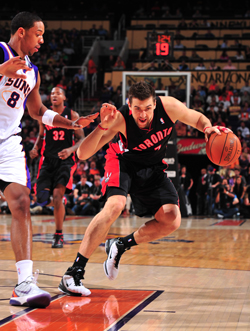 It's been a fairly miserable decade for the Toronto Raptors, who have qualified for the playoffs just twice in the last 10 seasons and are headed for their fourth straight trip to the NBA Draft Lottery this year.
This season's struggles, of course, were to be expected, as franchise forward
Chris Bosh
flew the coop for South Beach, leaving a mishmashed, young roster led by perimeter-minded big man Andrea Bargnani in his wake. It's hard to take much from Toronto's struggles this season, but most fans and observers of the team would seem to agree that Bargnani does not possess the all-around game to be a No. 1 option on a quality playoff team.
The Toronto Star reports
that there are those within the Raptors organization that are ready to trade Bargnani and move forward with rookie forward
Ed Davis
as the centerpiece.
There are voices within the team who'll tell you that, with Davis establishing himself as an ascendant talent, the prudent way forward for the Raptors is to trade the Italian. [GM Bryan] Colangelo has a history of being unsentimental in his buying and selling of players, but he has shown an unusually strong attachment to the seven-footer he selected with the No. 1 overall pick in the 2006 draft.
Still, while Colangelo has insisted and insisted and insisted he can build a winning team with a one-dimensional shooter as the starting centre, he has failed and failed and failed to do so. So maybe it's time to move on.

Perhaps the best argument for unloading the Roman goes something like this. If Davis is soon to grab a full-time role as the starting power forward, it's asking too much of him to do it alongside a soft-to-the-touch centre who shows zero interest in sharing the frontcourt workload on defence and on the glass. Chris Bosh enjoyed the role so much he moved to Miami.
A smooth-shooting seven-footer who has already inked a long-term extension, Bargnani is an easy target for criticism despite averaging a career-high 21.9 points this season. He's not very adept at defense not very motivated on the boards and he's just now beginning to learn the value of getting to the free throw line. To top it off, Bargnani is now 25 and not particularly likely to take a quantum leap forward statistically in the future, as he has had all the touches he can handle this season.
The only (huge) problem with this scenario: Davis isn't ready to be the guy yet, not even close. He's averaging 11 points and 6.8 rebounds, solid numbers as a rookie, but he's started just 10 games and has never played 40 minutes in a game. Not once. And let's not forget that his career-high of 21 points is less than Bargnani's average this season.
In hopeless situations, especially those that are cyclically hopeless, dreaming of a better future is always tempting. Davis certainly could emerge into a centerpiece, a more traditional and balanced post player who would be easier to build around. It's just not that time yet.
The Raptors are stuck with Bargnani for the time being, unless they're prepared to take another step backwards, which isn't easy to do when you're 20-53 on the season.