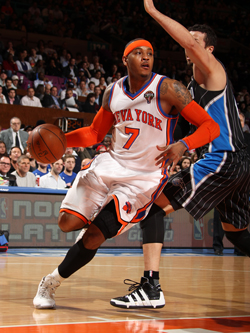 Posted by Royce Young
A big peeve of mine is claiming a regular season game that won't force you out of the postseason a "must-win." People were saying that when the
Heat
were set to play the
Lakers
after losing five straight. (I think
Chris Bosh
or LeBron even said that.)
It's kind of a ridiculous thing to say when you're not going to be eliminated after the game. But for the
Knicks
, times are desperate. They've lost six straight and nine of their last 10. They've gone from the six-seed to the seven and three games under .500. They're a complete mess on both ends of the floor and playing without any sense of confidence or reason.
So when
Carmelo Anthony
says tonight's game versus Orlando is "almost a must-win" for them, it's a little bit tougher to disagree.
Via the AP:
"We understand how important this game is for us," Anthony said at the Knicks' training center. "It's almost a must win for us. That mentality, that's something that I want to approach it, as a must-win game. We've been talking about that throughout the team."
Since acquiring Anthony, the Knicks have gone 7-12, which most definitely not what they had envisioned when they added the All-Star. But with him, there's been a major offset in on-court chemistry. Mike D'Antoni's team
isn't playing near as fast,
near as loose and they're regressing defensively. Basically, they're sort of falling apart.
D'Antoni didn't echo Anthony's must-win belief, but he put it this way: "We've had a few of those lately, and we haven't seemed to get one, so every game we go out is a must win. It's a must play well."
I like that better. A must play well. Because let's face it. Against the
Magic
, the Knicks just don't match up well. Drawing a line in the sand to say this is a must-win when maybe you don't have a great shot isn't going to be good for confidence after the final result is unfavorable. Melo is setting himself up for more disappointment.