Dwight Howard picked up his sixth foul against the Knicks Monday night on a questionable call and then picked up his seventeenth technical. Was it a phantom call?
Posted by Matt Moore
You know, if Dwight Howard's going to pick up technicals, he really should try to at least get his money's worth and pick it up while he's still actually in the game.
With 1:20 left in overtime of the
Magic
's loss to the Knicks Monday night,
Jason Richardson
launched a corner three. Dwight Howard smartly maneuvered to the far side to attempt to grab the offensive rebound.
Chauncey Billups
and
Amar'e Stoudemire
positioned on either side of him. Howard, being significantly taller and longer than both players, tapped the ball up in the air, and after contact from all three players, Howard grabbed the rebound to allow the Magic another chance to tie or take the lead. But then, tweet. An offensive foul, Howard's sixth. After the foul, Howard objected to the call (shocking, I know), with an expletive, and then threw the ball across court. And again, tweet. Howard's seventeenth technical of the season, bringing him within one more T of his second suspension from technicals this season. So what gives? Was Howard right to contest the foul? Let's take a look.
Okay, a lot of contact there. Let's take a look at a few key frames. First, here's what happened on the way up for the tap: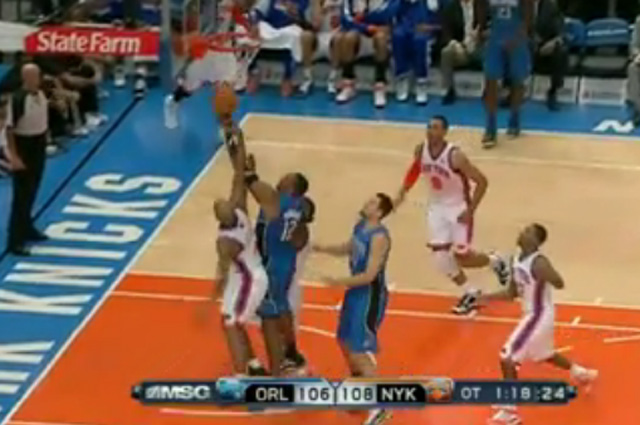 First thing you'll notice is Chauncey Billups' contact on Howard's outstretched arm. That's pretty clearly a foul. Unfortunately, you'll notice Howard also placing contact on Stoudemire, partially inhibiting Howard's ability to reach up to contest for the rebound. But you could definitely argue that nothing should have been called from that image. What about on the way down?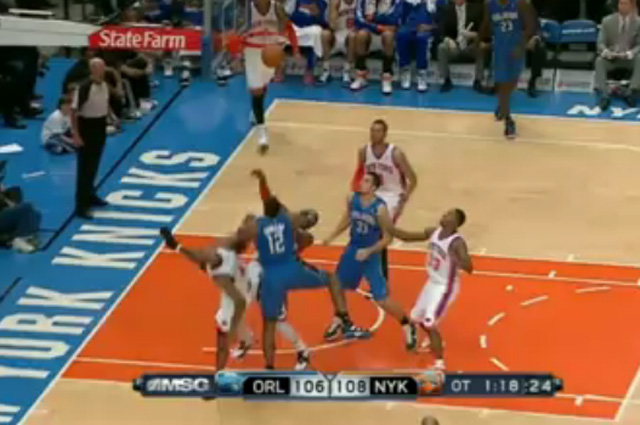 Okay, well, Billups is definitely holding Dwight a bit there, or at least is making contact. Unfortunately, you see that tangle of limbs and goggles caving in and falling backwards? Yeah, that's Amar'e Stoudemire, caving under Howard's arm coming down. That's pretty obviously a foul. But hey, maybe it just looks that way from this angle. What about another angle?
Zach Harper of ESPN provides
a little clearer view of what was going on down there from another broadcast angle.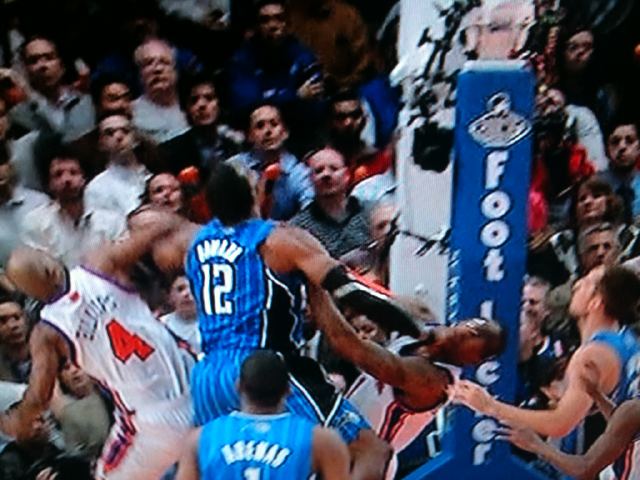 You can definitely argue that Howard is being fouled simultaneously by Chauncey Billups. But you can't argue that that's not a foul on Howard for shoving Stoudemire in the face, just as you can't argue that MVP's should be picking up technicals which can result in suspensions during the stretch run to the playoffs, just as you can't argue Howard should be surprised at this point by either the officials' calls or their reaction to his protests over their calls.
It wasn't a phantom foul. Stan Van Gundy and Howard have a legitimate case that Howard doesn't get the calls he should during the game, but it's impossible to argue that Howard didn't commit a foul on this play. A tough break for the Magic on a night full of them.
For more on the Knicks' win over the Magic, check out
Ken Berger's report on how Melo
took the Knicks out of their misery.