Posted by Royce Young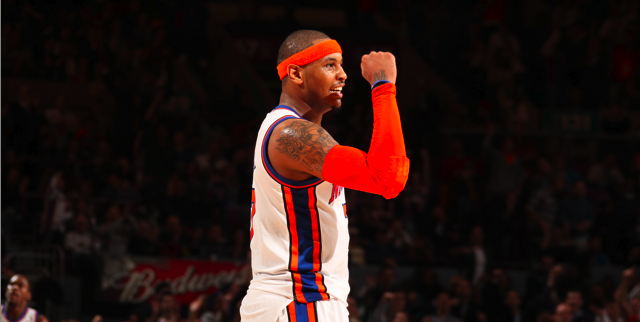 Before everyone gets ahead of themselves, let's understand things for what they are. The
Knicks
beat a bad New Jersey team at Madison Square Garden, and still gave up 116 points to do it.
But things are a better right now than they were a week ago and that at least deserves some recognition. The Knicks are within a game of .500 after winning their second straight and with the schedule softening up to close the season, maybe they can re-position for the six-seed. Maybe.
Two things of note that are were mentioning from the Knicks win over the
Nets
:
1) Carmelo Anthony really appears to be trying to shoulder the load.
"Trying" is a key word. Melo was terrific in the third going for 20 points. The fourth, he went just 1-5 for two points, but it was enough. His third quarter effort was what brought the Knicks back from 10 down to trail by just a point heading to the fourth.
He finished with 39 on 15-26 shooting. This is Melo's third consecutive game with at least 35. But even more than that, his effort defensively was for once, noticeable. He battled through screens, contested shots and crashed the defensive glass. Melo is giving a major effort right now to try and get things straightened out for New York. It's commendable.
2) The Knicks role players did something.
If you check the box score, you'll see it was 39 for Melo, 23 for
Amar'e Stoudemire
and 33 for
Chauncey Billups
. They definitely did most of the work. Almost 80 percent of it. But in a big stretch in the fourth,
Anthony Carter
dished out three big assists and knocked down a jumper.
Shelden Williams
turned in three big buckets and it was his work on the glass tipping a rebound to
Toney Douglas
that essentially sealed the game.
Shawne Williams
only scored four but made a large jumper late.
The Knicks really are just a less polished, less talented version of the
Heat
in a way, even down to the bench. They lose this game without even the slightest contributions from their role guys. Melo, Billups and Amar'e will carry the team in most every way, but they aren't winning games, even against bad teams like New Jersey, without their benc doing something.
This Knick team is kind of fascinating and it's why so many people are writing so much about them. They just
seem
too good to be losing all these games. But they're now 9-12 since the trade and though it's only two wins, it's at least the right direction. Melo called the Orlando game a pretty much must-win and it was, because it relieved some stress off them.
But this team isn't built for the now. They aren't doing anything other than maybe pushing a first round opponent to six or seven games. They're too talented to be losing this much though and that's why even just back-to-back wins feels big for them.