Posted by Royce Young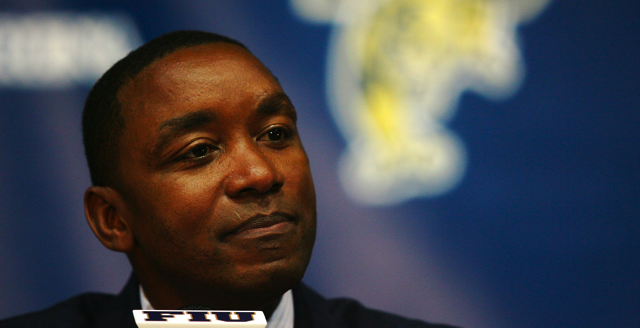 I'll cut right to it:
Go read this piece on Isiah Thomas at FoxSports.com.
It's terrific. It's a wide ranging feature that basically sums up everything about Thomas in a couple thousand words. Some good, some bad and some strange.
One question that was asked of Thomas was his involvement in getting
Carmelo Anthony
to the New York
Knicks
. There was a lot of speculation that was the case as well
as solid reporting on it too.
Thomas, who of course was once the general manager of the team and is still close friends with owner James Dolan, was said to be quite wrapped up in the Melodrama.
And right before the deal was done,
he didn't deny involvement.
When he was asked in this most recent interview, he toed around the question carefully.
"I do have a lot of friends," he says carefully. "And I am asked to advise in a lot of different scenarios. Players, coaches, and ... " A very long pause. "I won't comment on the Knicks situation, but I do like helping the Knicks, and I do want them to do well."

I kind of wonder if the Knicks were 17-4 with Melo instead of 9-12 if Thomas would be ready to take a little more credit for it. Of course he has to tread carefully with his dealings with the Knicks as he's still a college coach at Florida International and was already turned down by the league when offered a consulting job with the Knicks.
But the strangest moment of the interview came when Thomas was talking about how badly he wanted to get back into the NBA. He's convinced he soon will be, mainly on the legs that he has lots of friends. And at one point, he pushed the writer interviewing him to call up one of those friends on the spot. Problem was, the one he wanted him to call was one that was going to tell it like it is -- Charles Barkley.
We sit by the Biltmore pool and talk, and after a while I ask him for phone numbers of people who can speak to his situation. I ask him what Charles Barkley would say.

"Here's his number. Call him and ask him."

I tell him I will.

"Call him now."

I squirm. Reporters aren't crazy about conducting interviews in front of a story subject. For one thing, if Charles Barkley says bad things about Isiah … well, that could be awkward.

I start to dial and Isiah says, "Don't tell him I'm here! I want to know what he says," and the full extent of Isiah Thomas' exile hits me.

Here is this accomplished, wealthy, famous, Hall of Fame athlete — and he needs me to tell him what Charles Barkley thinks about him. Exiled indeed.

But still, why not call? Isiah Thomas is dumping numbers on me, including for people, like Barkley, who might very well rip him to shreds. That speaks volumes about his comfort level with being analyzed and discussed. And it's not like whatever Barkley tells me won't appear in this story anyway.

It's going to be public and published, and Isiah will surely read Barkley's comments. Isiah knows this. Barkley, if he takes my call, will know this. I know this.

The phone keeps ringing, but Barkley doesn't answer, and so I hang up, relieved. I send a text instead. I feel like I'm off the hook, and then the phone rings.

"Hey, it's Charles."

So, with Isiah listening intently, I ask if Isiah belongs in the NBA, as a coach or general manager.

"He's coaching right now," Barkley says. "He got fired, and when you get fired you don't just go get another job. He's a great guy and I like him, but he made some bad decisions with the Knicks, like I think everyone knows. He has a job now, so that should be his No. 1 priority. Gotta do that."

I hang up. I tell Isiah what Barkley said. His face falls.
Wildly interesting stuff. And a view into the weird world of Isiah Thomas. One of the all-time greats searching for approval from peers. He's still confident in himself, as he always has been. We all know his record of good and bad and as you'll see in the interview, he's not shy about sharing them, especially the good.
What to make of it all though? I don't really know. With everything on the Isiah Thomas resume, it seems hard to imagine him returning to the NBA soon. He obviously wants to though. But, like Barkley said, he has a job to do now with Florida International, one that he's not doing a very well with (FIU went 11-19 this season) and one that he already tried to divert attention from with the Knicks consulting thing.
Like he said though, having friends in high places is certainly a nice thing to have in your pocket. And it's pretty clear Thomas is still buds with James Dolan. Make of that what you will.