Posted by Royce Young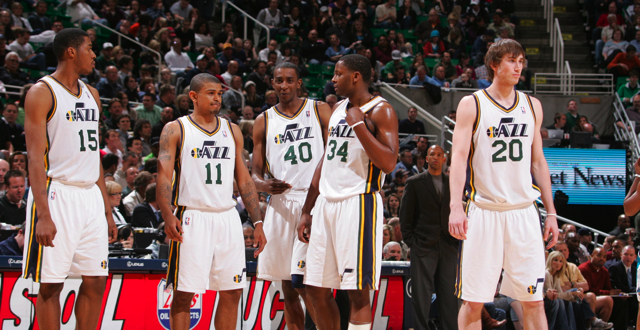 I'm not sure anyone, Nostradamus included, could've predicted how this Utah
Jazz
season would turn out. Jerry Sloan resigns/retires mid-season,
Deron Williams
is traded and the team completely falls on its face and is set to miss the playoffs for one of the few times since the team moved to Salt Lake City.
And all this after they were a chic preseason pick to win the West and verified that with a strong 15-5 start. But it all started to fall apart in January.
The Salt Lake Tribune lays it all out very well.
The Jazz's dramatic mid-season collapse has left casualties. Gone are two once untouchable coaches, and an Olympic talent was traded away. The fall started suddenly, then picked up speed and has changed the face of the organization while significantly altering its future during an already uncertain time.

It is also on the verge of becoming historic.

According to the Elias Sports Bureau, no team in NBA history has ever started a season 15-5 and not made the playoffs. In addition, no squad during the 64-year timeline of the league has reached 27-13 and not qualified for the postseason.

The Jazz stand on the precipice of both.

Utah's elimination number has dwindled down to one with seven regular-season contests to go. Either a Jazz loss or Memphis win during the 14 games that remain for both teams will automatically end Utah's playoff bid, disbanding the 2010-11 Jazz ahead of schedule and preventing the small-market franchise from receiving a postseason payday for the first time in five years and just the fourth in 28.
That's pretty unbelievable. Think about it all for one second. Jerry Sloan leaving? That's crazy. Trading Deron Williams? Just as wild. And then going from 27-13 and a certain Western Conference playoff team to now basically eliminated? Put all of that together and you have one of the most up and down seasons for
anyone
, ever.
I honestly think this Jazz season is worthy of a two-hour DVD or something. Remember that crazy stretch back in December where they spotted teams double-digit halftime leads and came back in like five straight to win? Remember their wild win in Miami with
Paul Millsap
losing his mind in the fourth quarter and overtime? Remember how they were
really good?
And now this. Now they're 36-39 and have most recently dropped six straight. Since sitting at 27-13 halfway through the year, they've gone 9-26. That's bad. That's like Washington Wizard, Minnesota Timberwolf, Sacramento King bad. The way they've lost at home, the way they've been unable to stop anyone, they way they've seemed to lose focus in close games -- it's been almost staggering.
It's easy to point at the Williams trade, but it was really unraveling well before then. The tension between Sloan and Williams combined with the entire team struggling to buy in to the system.
Al Jefferson
just wasn't fitting into the flex offense and the Jazz missed
Kyle Korver
,
Wesley Matthews
and
Carlos Boozer
a lot more than they expected. They probably would still be a playoff team -- barely -- with Williams, but general manager Kevin O'Connor saw the writing on the wall. Best to blow up and start anew.
I think the natural move is to point at new coach Ty Corbin but obviously I don't think anyone is to blame. That roster has undergone quite the transition leaving All-Stars like Boozer and Williams for new guys like
Derrick Favors
,
Devin Harris
and
Gordon Hayward
. The team is trying to transition and so far, it's been pretty painful. I mean,
Earl Watson
has started the last 10 games at point guard. That kind of says it all doesn't it?
The Jazz have been trying break through for a long time and make history. They're about to make some now, but definitely not the kind you want your name next to.