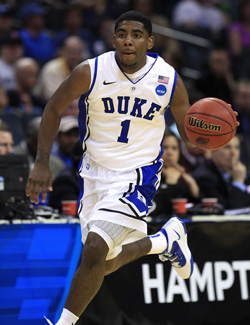 Kyrie Irving is reportedly leaning towards entering his name in the 2011 NBA Draft.
Posted by Matt Moore
Kyrie Irving had a great season for Duke. That you can say that considering he missed almost the entirety of the season with a foot injury shows you just how good he was. When Irving returned for the NCAA tournament, there was concerned he would be rusty. Instead, he was his usual brilliant self. Duke's early exit from the tournament thanks to Derrick Williams and company for Arizona was the only thing stopping a fairytale story. But having missed so much of the season, would Irving want to wait to assure himself the top pick? Would the likely lockout prevent him from making the jump to the pros this soon?
Apparently not.
ESPN reports that Irving is "
leaning strongly toward declaring for the NBA Draft
." With Jared Sullinger stating publicly and emphatically that he's returning to Ohio State, it would pretty much be down to a two-man race for the No. 1 overall pick in the draft. From there it would really just end up as a question of need for the team in the top spot.
The lockout complicates matters here. If Irving does declare, he'll be drafted before the current CBA expires, but will not have his contract negotiated until after the lockout. So the question of whether he'll be under current or new salary structures for rookies is unclear. An interesting note, however. NBA players are paid on various calendars, but in most cases, rookies don't receive their first check until November. So should a lockout extend for six months, say until the beginning of 2012, Irving would only really lose two paychecks in that scenario, as opposed to six.
Irving has the complete package. Prior to the summer of 2010, Brandon Knight was considered the top freshman point guard and expected top overall pick. But Irving absolutely exploded in summer play, and then showed even more on the national stage at Duke. He's at an elite level in terms of touch, speed, agility, handle, and play-making ability. He doesn't have
John Wall
's vision, but he has a better jump shot to start. He's a total package, provided that his foot checks out after a physical.
Should the
Cavaliers
land the top spot based off what will be the worst record in the league, it's easy to see them passing on Irving. Not only do they have salary tied into
Baron Davis
and
Ramon Sessions
, but going for a big is the more traditional route. The
Kings
, however, would likely love to find Irving available. That scenario could lead to
Tyreke Evans
moving to small forward, creating a devastating lineup of Irving,
Marcus Thornton
, and Evans, with
DeMarcus Cousins
down low. That's
Thunder
2008 stuff.
Irving could still decide to return next season, should his foot have issues, draft evaluations come back lower than expected, or Coach K pulls some
Magic
, again. But with Austin Rivers as widely acclaimed entering the season, the logical choice is to make the jump, take the money now, and ensure a high pick. Irving looks every bit the next NBA star.