Former NBA player and current NBA analyst Jalen Rose has been pulled from the air due to a recent DUI arrest. Posted by Ben Golliver.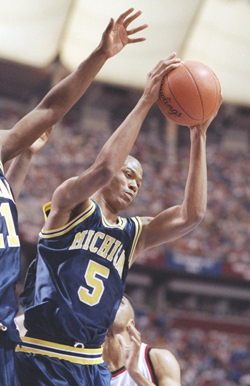 It's been a wild month for former University of Michigan basketball star Jalen Rose, who released a controversial documentary about his time with the Fab Five and was
arrested on DUI charges
, which he managed to keep out of the news for weeks.
USA Today reports
that Rose has been pulled from the television airwaves by ESPN, where he is currently an NBA analyst.
ESPN is pulling Jalen Rose off the air after a report found the NBA basketball analyst waited almost three weeks to tell his employers about his arrest in Michigan on suspicion of drunk driving.
"Jalen has accepted full responsibility for his actions. Both parties are taking this very seriously, and as a result, we've agreed that he will not be on our air while he addresses this situation," said ESPN spokesman Josh Krulewitz in an email to Game On!
The Poynter Review Project reports
that Rose was not contractually obligated to disclose his DUI arrest to ESPN.
ESPN encourages its "talent" -- those employees and contractors who are paid to appear on the air or write for the Web or magazine -- to tell their bosses about potentially embarrassing personal issues that might become public. But no written policy explicitly requires them to come forward.
This has really turned into a "it was the best of times, it was the worst of times" situation for Rose, whose documentary set ratings records but has now been overshadowed by his personal conduct and decision to bury negative headlines rather than own up to the situation.
Rose was in a tough spot and he clearly chose to do what was best for himself and his project rather than what was best for his employer. That type of decision can have all sorts of long-term consequences. Whether Rose is being temporarily muzzled or cast aside remains to be seen. For now, it will be a lot harder to hear Rose's side of the story.