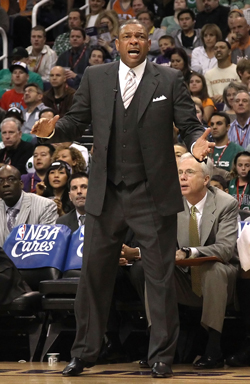 Posted by Royce Young
There has been chatter recently
about Doc Rivers' future in Boston.
He was close to leaving the team after the Finals last season, but was coaxed back by the
Celtics
' big three.
But with his son Austin going to Duke and Rivers clearly having the desire to watch him as much as possible, the urge to take a hiatus from coaching is definitely there. However, he knows what a good thing he has in Boston and
told 98.5 The Sports Hub
it would be tough to leave.
"I can say I have given that zero thought. I know it's going to be a conversation and I understand that, but I really don't. I'm flying to Chicago to watch my son play and I will fly back to San Antonio late tonight and that's what I have done all year.

I think it's my responsibility as a parent to do that and I don't know. I don't know what I'm going to do I really don't. This place is the best. Working with Danny Ainge, Wyc (Grousbeck) and that group, I can't get a better group. It would be very difficult for me to ever leave this situation."

Obviously Rivers doesn't really want to think too much about his future with the current season about to really rev up with the postseason. But it's hard not to. If you watched the McDonald's All-American game you saw Rivers in the stands watching his son play. He's done that all year, flying back and forth on off days to catch every game he can.
I honestly salute Rivers for it. He's a dad first, coach second. He knows his responsibilities to the Celtics, but his first and most important job is being a father. And he knows it. That's really admirable to me.
Rivers isn't old (just 49) and if he decides to step away from the Celtics that doesn't mean his coaching career is over. Most likely so with the Celtics, but once Austin decides to take his game back to the pros, Rivers might come back. And with Austin's ability, that could just be a year.
Via Sports Radio Interviews