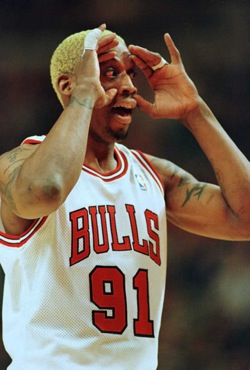 Posted by Royce Young
Dennis Rodman is headed for the Hall of Fame,
reports Dennis Rodman.
Well at least Rodman says he was informed Thursday to be in Houston for Sunday's Hall of Fame announcement.
Rodman was in his old stomping ground as the
Pistons
honored him Friday by retiring his No. 10 jersey. Rodman is a five-time NBA champion and two-time defensive player of the year winner.
Rodman was among 12 finalists for the Hall of Fame this year along with players such as
Jamaal Wilkes
, Maurice Cheeks,
Chris Mullin
and Ralph Sampson. The induction ceremony is in August.
Detroit selected Rodman in the second round of the 1986 draft of Southeastern Oklahoma. The native of Trenton, N.J., also played for Chicago, San Antonio, the
Los Angeles Lakers
and Dallas.
For his career, Rodman averaged 7.3 points and 13.1 rebounds per game in 14 seasons. But check out his stretch from 1991-1997. During that time, Rodman averaged 16.7 rebounds a game and in 1991-92, put up 18.7 a game. That's almost as insane as Rodman himself.
Of course Rodman became more known for his piercings, tattoos and wild personality, but people forget what a fantastic basketball player he was. My favorite thing about him was his committment to team. He was the ultimate team player. He was selfless. At Southeastern Oklahoma he was an all-world scorer, averaging upwards of 40 points per game. But once he found a role in a rotation in the NBA, he sunk his teeth into what he was best at -- defending and rebounding.
The only thing that had people questioning Rodman's Hall of Fame potential was his antics and issues. Because in terms of playing basketball, there's no questioning he's one of the all-time greats. He has the rings, stats and awards to prove it.