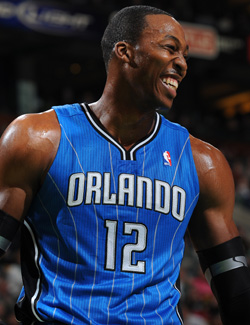 Posted by Royce Young
Orlando general manager Otis Smith has taken trade calls for
Dwight Howard
. And he put it simply: "The answer will be the same as it always is: No."
Howard is the new big thing people are especially interested in. He's the new
Carmelo Anthony
. His contract expires in 2012 and already teams are positioning to recruit his services. Smith doesn't want to go through any Dwightdrama, so he's trying to nip it before it really cranks up. He's saying no, he says.
The Orlando Sentinel fills in the blanks:
Smith expects clubs to come calling before the trade deadline, thinking the Magic would rather receive compensation instead of letting Howard walk as a free agent. Smith made it clear: He's willing to take the risk.

"Sure," he said. There's a reason he feels that way. He reiterates that teams dealing superstars never get fair value, which is true, but there's something more. Smith believes --- and this is obviously encouraging news for Magic fans --- that Howard will stay in Orlando when all is said and done, texted and tweeted.

"That's my sense," he said.

It's a hefty risk to take I suppose, but then again, the Magic are probably right to take it. Howard so far, hasn't indicated he wants to leave. And just because a player says he wants to look at his options, it's not the black spot for a franchise. Maybe he really wants to look at his options. (By the way, Howard himself hasn't used that line yet.)
Already Howard has gone on record
saying he'd like to stay in Orlando.
And Smith feels like he means it. He's willing to take the risk. I don't blame him either. He has the franchise big man that pretty much 29 other teams will kill for. He has the toughest building block to nab. Smith said he'll offer Howard a token extension this summer even though he knows Howard won't take it. But it's what you have to do to try and keep a player like that.
Why did Smith go on record and tell us all this? No clue. Smith has never been shy with reporters, but the most I can figure is that either he was just being honest or maybe trying to spare his cell phone a few rings with trade offers.
People almost thing it's unheard of for a star now to stay put and be happy, but there is a strong possibility Howard could do it. Like so many others, Howard wants to win. That's the main objective. And the Magic have been in a Finals and have remained successful. Other than having another GM carve out a roster to team Howard up with
Chris Paul
somewhere (he could sign in Orlando in 2012, you know) or find a way to get him with Melo and Amar'e in New York, Howard's best option might be with the Magic.
You can be sure that the
Nets
, who are trying to convince their own superstar to stay, will call Smith. You can be sure basically everyone in the league has their eye on this. But Smith is willing to roll the dice and it might just be the right move. Why he's telling about it now though, I can't say.