The Miami Heat are thinking about signing veteran center Eddy Curry. Posted by Ben Golliver.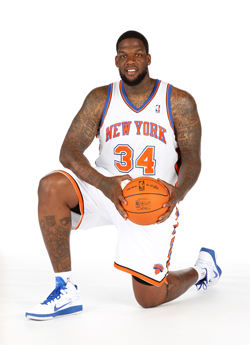 April Fool's Day has come and gone, so this is no joke: The Miami Heat are reportedly considering signing veteran big man Eddy Curry, a constant punchline around the league because of his weight problems, for the playoff stretch run.
Yahoo! Sports reports
that Heat president Pat Riley is driving the decision to pursue Curry, who weighs at least 350 pounds.
The Miami Heat are progressing toward signing center Eddy Curry for the playoffs, front office sources told Yahoo! Sports.
After Heat president Pat Riley watched Curry work out in Chicago in recent days, he's made plans to bring the 7-footer to Miami early next week for another workout and a medical physical with the ultimate objective to sign him, sources said.

One league source listed the probability of Miami signing Curry at "better than 50-50." The Heat would need to cut a player for the playoffs, with rookie Dexter Pittman as a likely candidate to be waived.
The Palm Beach Post reported
Riley's reaction on Saturday.
For the record, Riley said through a spokesman that he worked Curry out in Chicago with "a half-dozen other players," that it was for "a big picture look," and that anything else is "purely speculation."
Curry began the season on the
Knicks
but was dumped on the Minnesota
Timberwolves
to help facilitate the trade that brought
Carmelo Anthony
to New York. He was then bought out of the remainder of his contract by the Timberwolves. He hasn't appeared in a single game this season and has played just 10 games combined since the beginning of the 2008-2009 season.
No question: the Heat are
that
desperate. They've struggled to get meaningful contributions from their aging front line all season and they recently received word that forward
Udonis Haslem
was still
possibly a month away
from returning from injury.
Going super small and playing
Chris Bosh
at the center spot and
LeBron James
at the power forward works against weaker teams during the regular season, but it's not a viable playoff strategy. The Heat need a space eater and Curry is adept at devouring things.
If you're looking for a reason to sell stock in the Miami Heat's playoff chances, this is a good one.