Posted by Royce Young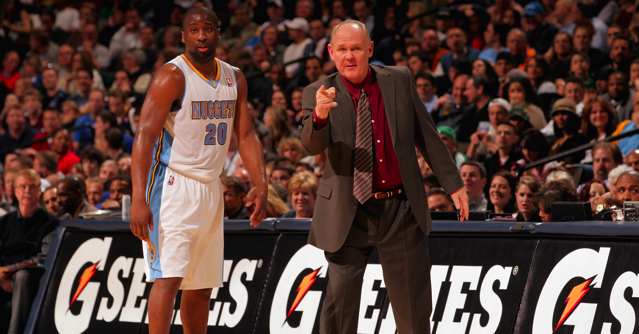 Nobody expected to be asking this question. I don't think even in his heart of hearts George Karl thought the
Nuggets
would be in the position for someone to ask it. More than a month after trading away the apparent franchise player, the Nuggets didn't dip. In fact, they did the complete opposite.
They rose.
You've heard the number a ton already, but I'll say it again: Since trading Anthony, Denver is an astonishing 15-4 and winners of seven straight, most recently with a terrific road win against the red hot
Lakers
. Again, I don't even the most optimistic people saw this streak coming. The feeling was the Nuggets made 50 cents on the dollar with the trade, getting quality pieces back but nothing comparable to Anthony. That's sort of the situation you face when trading a star. No matter the return, it's not as good as what you're sending out.
But the Nuggets clearly found something. They found a unit that works together, understands a philosophy entirely and has settled into roles and bought into a culture. There isn't a crunch time star to run things through. But there are a number of really solid players that are flourishing under Karl.
Not only are the Nuggets winning, but they've played every game well. They haven't really had a bad night. Their four losses were by a combined 15 points. And they came against the
Magic
,
Heat
, Blazers and
Clippers
. Yeah they Clipper loss isn't great, but it was at Staples where the Clips are 22-18 and have beat a lot of good teams. Not really a bad loss.
So the Nuggets have already accomplished the first goal, the one that appeared to be a longshot when general manager Masai Ujiri decided to finally cut ties with the Melodrama. They are going to go to the playoffs. Currently, the magic number is at one. A lone win or a Houston loss puts Denver in. And they are still in the rearview of the Oklahoma City
Thunder
for the Northwest Division title and the four-seed in the playoffs.
Because that's where things have advanced to -- playoffs. No longer is it just about getting there, but now it's a new mission and a new question: Can the Nuggets actually make some noise?
It almost seems like we've all dismissed that as an option because of the lack of starpower. It's like people are saying, "Yeah the way they've played the last month is cute, but they aren't built for the postseason." But here's what wins in the playoffs: good basketball. And what do the Nuggets play? Good basketball.
On both ends, they've become a fundamentally sound unit that defends, moves the ball, cuts, runs and finishes. They are still scoring but instead if 60 percent coming from two players, it's now evenly distributed out among a number of guys. I think the toughest type of team to defend is one that have five, not one, players on the floor at a time capable of scoring. And not scoring as in making a bucket here or there. I mean capable of putting up double-digits consistently. George Karl deserves Coach of the Year consideration just for getting
J.R. Smith
to buy in to playing well with others. That honestly says it all.
Is this a team just built to contend for the Western Conference Finals? I mean,
really?
Well look at it this way: Most everyone the Nuggets play talk about how good they're playing and how scary they are. Put this group in a series where they need four wins and I don't think many teams would want to play them. They match up just about everywhere, have shooters, have two good point guards, have a big man that can rebound and score, have a really good bench and have an enforcer in the middle that adds toughness. They're built for anything.
One thing that makes a team more dangerous than anything is confidence. A belief in self, along with the 11 other guys on your team and the system you play in makes a team scary. It's how you see runs like what Butler has put together two straight years in the NCAA tournament. They believe in one another. They trust each other. And they just feel unbeatable, no matter what. Establishing that mentally was the top priority for Karl once the trade went through and he's absolutely succeeded.
The concern for them heading into the postseason is how they perform on the road where they're just 17-22. But Sunday's win in Los Angeles is a pretty good example of how they might be able to get over that. The Nuggets absolutely grinded one out versus the Lakers, playing hard nosed defense, by grabbing a couple key offensive rebounds and by moving the ball for good looks in crunch time. The Western Conference was already very aware of this Nugget team, but Sunday's win against the defending champs certainly raised a few more eyebrows.
But let's not get too carried away though. Winning in the playoffs isn't easy, no matter who you are or how well you're playing. You've got to beat a good team four times. That's tough, no matter how good you feel. And it will likely start versus the Thunder, a team that features a two-headed monster in
Kevin Durant
and
Russell Westbrook
plus ample size and toughness inside. Certainly, it will be a fun, but very difficult series.
The Nuggets are definitely capable of moving on though, but it's not like they're a favorite. It's not like most will give them much of a shot. Which means they'll be flying exactly where they want to be -- under the radar.