Chicago Bulls center Joakim Noah will reportedly return to action on Tuesday after suffering an ankle injury. Posted by Ben Golliver.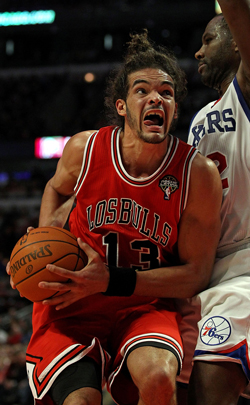 The Chicago Bulls are this close to securing homecourt advantage by securing the top overall seed in the Eastern Conference. The Bulls are currently 2.5 games up over the Miami
Heat
with just six games left to play.
Their run for the top seed got a bump on Monday, when center Joakim Noah, who had been dogged by an ankle injury that forced him to miss the last three games, returned to practice.
The Chicago Tribune reports
that Noah expects to play on Tuesday, when the Bulls face the Phoenix
Suns
.
The Chicago Bulls center said he expects to play on Tuesday against the Phoenix Suns. "It feels a lot better," Noah said. "I've been getting a lot of treatment."
Coach Tom Thibodeau said Noah "moved well" during practice. "The injury he had happens," Thibodeau said. "He did a good job with his rehab and hopefully he'll be ready to go."
Noah's absence hasn't cost the Bulls, who are winners of three straight, but the importance of his return can't be understated. The Bulls' remaining schedule includes games against the East's No. 3 seed Boston
Celtics
, No. 4 seed Orlando
Magic
and No. 7 seed New York
Knicks
.
On the season, Noah is averaging 12.1 points, 11.0 rebounds and 1.4 blocks in 34.1 minutes per game.