Here's an early look at the potential lottery picks in a 2011 NBA Mock Draft. Posted by Ben Golliver and Matt Moore.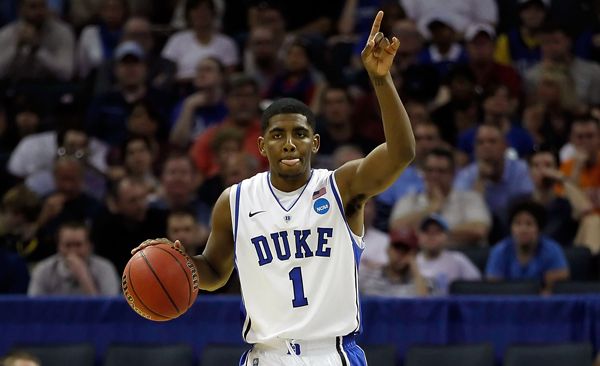 With the NCAA Tournament wrapping up on Monday night, it's time to turn our attention to the upcoming 2011 NBA Draft. While many top players have still yet to declare their intentions, here's an early look at how the draft lottery could shake out. All vitals are courtesy of
DraftExpress.com
. Matt Moore and I take turns making picks for each team that isn't headed to the NBA playoffs.
1. Cleveland Cavaliers -- Kyrie Irving, PG, Duke, 19 years old, 6-foot-2, 185 pounds
When you're as desperate as Cleveland is in the wake of
LeBron James
's departure, reliability is the surest route to a comeback. Kyrie Irving is the risk-free pick at the top: He clearly has an NBA position, he has his head on his shoulders, he displays all the leadership qualities and intangibles to build around, and he can shoot the rock. The Cavaliers have needs everywhere but they need to walk before they can run. A reasonable best-case scenario in the short term is that Irving blossoms to carry a lesser cast to big things, a la a young
Chris Paul
; The worst-case is that you have a solid floor general locked in for years to come. -- BG
2. Minnesota Timberwolves -- Jonas Valanciunas, C, Lithuania, 18 years old, 6-11, 240 pounds
Valuncianas should not go 2 here. He just shouldn't, not with Derrick Williams and others still on this board. The problem is Williams is 3/4 combo forward. The Wolves spent multiple assets to acquire small forwards, to the point where drafting Williams or even Harrison Barnes would simply create a further logjam at the position. Considering David Kahn's comments in March about rebuilding being "over," they're not looking for that next piece. A shooting guard replacement would be ideal, but there's not a suitable fit on the board. Brandon Knight would be a slight reach, and projects better as a scoring point guard. Kemba Walker doesn't have the size. Point guard is out with
Ricky Rubio
notched as the franchise savior and the Wolves can't risk anything to push him away from coming over next year. Which leaves us with Valuncianas. A Euro center with great size and extreme upside. A project. Eventually the Wolves will want an upgrade over
Darko Milicic
and drafting Valuncianas as a project would allow for just that. Darko can mentor him! .. Please don't throw things, Wolves fans, we're trying to spin this nicely. -- MM
3. Washington Wizards -- Harrison Barnes, SF, North Carolina, 18 years old, 6-8, 210 pounds
The Wizards have been extremely active in overhauling their roster and they find themselves, finally, at the point where they can turn the corner and enter the upward arc of a rebuilding effort centered around point guard
John Wall
and promising (although sometimes perplexing) big man
JaVale McGee
. Barnes, a multi-dimensional scorer that can shoot, fills a huge need for a team whose offensive efficiency was third worst this season. He has the ability to play off of Wall but also create for himself, lessening the burden on Wall to be a one-man show. That was often the case this season, especially as injuries ripped apart the second half of Washington's season. Barnes has excellent size and his work ethic has drawn lots of praise, a huge plus for any young player entering a dysfunctional situation like Washington, a team that very well may have a new coach next season. -- BG
4. Toronto Raptors -- Derrick Williams, PF, Arizona, 19 years old, 6-8, 235 pounds
Bryan Colangelo can't believe his luck as Derrick Williams falls to the fourth spot here. Even with
Ed Davis
a promising young power forward, the Raptors go for Williams, the best overall prospect. A center with great rebounding abilities would be preferable, but there's just not one with talent to match Williams. Williams provides rebounding and scoring along with the ability to get to the line, the kind of tough attributes the Raptors desperately need. Brandon Knight and Perry Jones are other options here, but Williams allows for the Raptors to go with a big lineup of Bayless, DeRozan, Williams, Davis and Bargnani, which might cover some of Bargnani's defensive and rebounding issues. -- MM
5. Sacramento Kings – Perry Jones, PF, Baylor, 19 years old, 6-11, 220 pounds
The Maloofs are kicking themselves, wishing and praying that Williams would fall one more spot so that he could become the SoCal face of the new SoCal version of the franchise currently known as the Sacramento Kings. They pull it together and decide to swing for the moon, nabbing Perry Jones from Baylor after also giving consideration to Jan Vesely and Terrence Jones. The Kings ultimately talk themselves into Jones because his antipathy towards the paint and glass is manageable with
DeMarcus Cousins
in the middle and, should they relocate, they become, in effect, an expansion team. The risk and patience that Jones puts it together and reaches his potential as a long, dynamic scorer is worth it because expectations would be rock bottom in Anaheim. How will Jones play alongside
Tyreke Evans
? Who knows. But it's worth a shot. -- BG
6. Utah Jazz (from New Jersey Nets) -- Brandon Knight, PG, Kentucky, 18 years old, 6-3, 170 pounds
Knight serves two purposes for the rebuilding Jazz. One, he's the best talent available, a quick but not speedy point guard with something few point guards enter the league with: a jumper. Knight brings the ability to play either the 1 or 2, projecting as a combination game manager and spot-up shooter. Two, it gives the Jazz more options with their backcourt. They can move
Devin Harris
in trade (albeit with a remarkably lower trade value than he had months before) and start Knight at the point, or keep Harris and look to move the underwhelming combination of players at SG. Knight with
Gordon Hayward
is a frighteningly undersized 2-3 combo, but Millsap and Jefferson down low make a pretty decent combo to counter that. -- MM
7. Detroit Pistons -- Enes Kanter, C, Turkey, 18 years old, 6-10, 250 pounds
The Pistons were the most frustrating team to watch from afar this year, as professionalism evaporated on numerous occasions and management was unable to take the necessary steps to plot a future course with so much ownership uncertainty. Detroit really has terrible luck in this draft as they need a strong scoring two guard of the future but this year's crop is devoid of that kind of talent. While center
Greg Monroe
is their single best building block and it might seem strange to draft another big, Kanter is arguably the most talented player left on the board and his physical low-post nature would finally allow Detroit to move into the post-Ben Wallace era. Monroe has the mobility and passing skills to play the high pst in a solid high-low game and that could make for a nice partnership that allows the skinny
Austin Daye
to do his thing on the perimeter without putting the Pistons at a disadvantage on the glass, where they were a bottom five rebounding team this season. -- BG
8. Cleveland Cavaliers (from Los Angeles Clippers) -- Terrence Jones, SF, Kentucky, 6-8, 244 pounds
The Cavs go SCREAMING to the podium to get Jones as fast as humanly possible.
J.J. Hickson
becomes a nice trade chip and Irving-Jones gives them an immediate 1-2 punch off the pick and roll. Get them a coach who can actually develop talent (Byron Scott ain't it) and the Cavs have something going here. Jones finishes with authority, can play wing or big, could wind up as a solid all-around power forward, or a versatile power three. Imagine
Jeff Green
if he wanted to rebound with inferior range. The Jeff Green invert, kind of. -- MM
9. Milwaukee Bucks -- Alec Burks, SG, Colorado, 6-6, 200 pounds
The Bucks -- the NBA's least potent offense this season -- need scoring, especially from the wings. While he might be a bit of a reach at nine, Burks would make for a dynamic backcourt pairing with
Brandon Jennings
, giving Milwaukee two guards that can create and attack the paint. His lack of three-point range is definitely a limiting factor but with an offensive need so glaring, beggars can't be choosers here. -- BG
10. Golden State Warriors -- Donatas Motiejunas, PF, Lithuania, 20 years old, 7-0, 215 pounds
The Warriors BADLY need to land in the top five to get a crack at Perry Jones, but since they're not, this is going to have to do. Basically, it's an Andreis Biedrins fill-in, only bigger and with better range. Montiejunas could be a
Pau Gasol
clone. He could be the Euro Yi. But the Warriors need size. He's there. Have we mentioned this is a shallow draft for bigs? -- MM
11. Charlotte Bobcats -- Kemba Walker, PG, Connecticut, 20 years old, 6-0, 180 pounds
It's a bit too obvious to guess that Michael Jordan and company will draft the best available Tar Heel -- John Henson -- but that's definitely a possibility. If Kemba Walker slips this far, though, I'm not sure how the Bobcats pass on him, even if
D.J. Augustin
stepped up in a fairly big way last season. Walker's ceiling is higher than Augustin's and he has that star power swag that could help put fans in the seats in Charlotte. Really, he could be groomed to be the point guard of the future, assuming the Bobcats ever get around to having a future. -- BG
12. Utah Jazz -- Jimmer Frede ... KIDDING ... Jan Vesely, SF, Czech Republic, 20 years old, 6-11, 240 pounds
The Jazz need a bigger 3 that Gordon Hayward. They already addressed their guard situation with Brandon Knight. They have bigs, and there's no standout center available (it's a theme, you see). So what happens here? The Jazz draft insurance in case they are unable to retain
Andrei Kirilenko
with Vesely, who's a 6-11 SF. Long, athletic, with some upside for range shooting and great physical tools. He also tries to dunk on everyone. The Jazz need some aggression. Again, it's predictable, but not as predictable as Jimmer. That's a win. -- MM
13. Phoenix Suns -- Jimmer Fredette (NOT KIDDING), PG, BYU, 22 years old, 6-2, 195 pounds
Call me crazy but I'm not sure Jimmer drops this far. If he does, Phoenix shouldn't hesitate. If they decide to roll the dice with
Steve Nash
for another year, Jimmer is the ultimate spot-up shooting specialist to free up the pick-and-roll. If the Suns move Nash this summer, they will be in desperate need of Jimmer's hype factor and offensive prowess, not to mention someone that can handle the ball for a fair number of minutes. Is he likely to wind up disappointing fans in the short-term if he's the face of a Nash-less Suns team? Sure. But that team is going to be terrible anyway. -- BG
14. Houston Rockets -- Kawhi Leonard, SF, San Diego State, 19 years old, 6-7, 225 pounds
Well, the Rockets have their point guard going forward (Lowry), a great shooting guard (Martin), and are chock full at power forward. Again, a center would do wonders here, but yet again, no reasonable options. Loading up with another tweener power forward like Marcus Morris does no good. So the Rockets take Leonard, and he's a good fit. A counter to the spot-up
Chase Budinger
, Leonard provides handle and explosiveness in a small forward. He's able to attack the rim and work in the paint. A good rebounder helps at the small forward since, again, the no center thing. Leonard is a bit of a reach but he and
Patrick Patterson
could be devastating as a one-two punch in certain situations. -- MM