Dallas Mavericks owner Mark Cuban is not happy with the treatment his team receives from segments of the online media. Posted by Ben Golliver.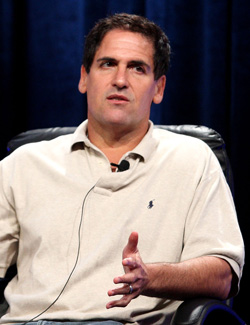 Three-game losing streaks have a way of making the world seem like it's crashing down. Dallas Mavericks owner Mark Cuban, whose team has lost three straight and has become the trendy pick to be the higher-seeded team most likely to get upset in the first round of the playoffs, is steaming mad.
In
a post written on his blog
, BlogMaverick.com, Cuban attacks paid Internet reporters for their rumor-mongering and constant negativity, and he apparently threatens to revoke their access to his team.
Of course rumors wont go away if a writer doesn't have access, but we can reduce the stress of a player having a mike shoved in his face and asked the same question day after day. We also don't have to legitimize the writer by giving them access to the locker room. We are better served making them the equivalent of the random "Maryslittlesportsblog.com" written by a 13 year old.
Right behind trades ? Negative Headline Trolls. . Talking to the Mavs internet writers, you would think we were out of the playoff race and had lost 60 or more games. Every loss is a catastrophe of epic proportions. It is as if every other team in the league is winning every game. Only the Mavs lose games. Again, we can't stop anyone from writing what they want. Nor do we expect every article to be positive. If you want to disagree 100pct of the time and you back it up with facts. More power to you. But instead we get the equivalent of "Because I said so" as the depth of analysis. As one writer told me, his opinion counts for more because he is informed And he considers himself informed because he has access to the organization. I can fix that..
...
So why do we let them in the door ? What value do they serve to the Mavs ? Its not like they are journalists. They are Fox News/MSNBC for sports. They may be popular, for now, but whatever benefit they served 4 or more years ago seems to have quickly disappeared.
It's unfortunate that a man who understands the online industry and its relationship with professional sports teams as well as Cuban does would resort to petty threats of censorship, especially given that the main thrust of this particular post seems to be that he wants more fawning coverage.
The thought pendulum simply swings harder and faster online. It's no coincidence that we hear Cuban's griping about negativity when the Mavericks are struggling (at least by their lofty standards). Should Dallas reach the Western Conference Finals, online entities will provide the rowdiest cheerleading, guaranteed. That's how this game works. I was under the impression that everyone accepted this reality like five years ago.
Cuban does reach one important conclusion, though. Teams are fully capable of being content-creating entities themselves, especially online. It's absolutely in his best interest as an NBA owner to compete with the local media in that sphere. What's the downside other than cost? There isn't one, and there's the very real possibility that "competing [with the media] as an information source", as he terms it, will meaningfully shape online discourse in his franchise's favor.
But competing with the media and purposefully excluding segments of the media because they don't align with his perception of his franchise's best interests are two very, very different things. If we've learned anything throughout history, it's that totalitarianism always sounds a lot better on paper than it plays out in real life.