Miami Heat guard Dwyane Wade sat out practice on Tuesday and is day-to-day with a thigh injury. Posted by Ben Golliver.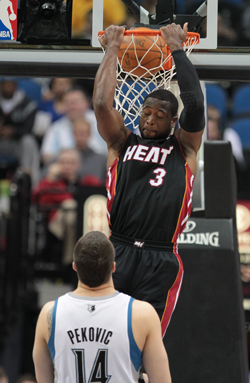 On Monday
, we noted that Miami Heat All-Star guard Dwyane Wade is dealing with a "right lateral thigh contusion" that he said was a 9.7 on a 1-10 pain scale. Ouch.
Tuesday's practice update offered little in the way of comfort for Heat fans. The
Sun-Sentinel reports
that the injury kept Wade from practice and the
Heat Index reports
that "Wade says he doesn't know if he'll play Wednesday. He's taking it day-to-day."
The Heat have just five games over the next nine days left on their regular season schedule. Usually the temptation this time of year is to shut down a player of Wade's stature to ensure that he's 110% healthy when the playoffs begin later this month.
Indeed,
LeBron James
casts his vote for caution,
telling the Sun-Sentinel
he favors shutting down Wade if that's what's needed.
"He knows at this point he doesn't have to push it," James said. "We need him more later than we do now."
James said if that means Wade missing time this week, so be it.
"Absolutely, if that's what it takes," he said. "D-Wade needs to be as close to 100 percent as possible. Of course he can't be 100, no one is 100 right now.
The good news for Miami is that three of their remaining five games are against lottery-bound teams. Indeed, Wednesday night's game against the Milwaukee
Bucks
and Friday night's game against the Charlotte
Bobcats
are both extremely winnable, even if Wade sits out.
Unfortunately for Wade, the Heat are in a tight race for the Eastern Conference's No. 2 seed with their nemesis, the Boston
Celtics
. As of Tuesday, Miami is just a 1/2 game ahead of Boston. To make matters worse, the Heat face the Celtics in a critical swing game on Sunday. That makes it extremely difficult for Heat president Pat Riley or Heat coach Erik Spoelstra to craft a shut down plan if something as important as homecourt advantage in the second round of the playoffs against Boston remains on the line. Hence, the "day-to-day" talk.