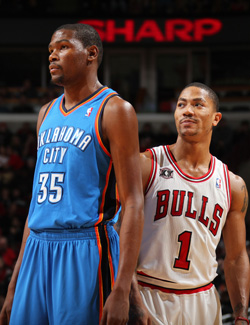 Kevin Durant is okay with not being on the MVP list. Well, not that okay. But he does think it belongs to Derrick Rose.


Posted by Matt Moore
Michael Jordan,
Kobe Bryant
,
LeBron James
, Stan Van Gundy, countless columnists, fans, and I'm pretty sure a few members of various royal families. These are all people who have pledged their support for Derrick Rose for MVP.
Throw Kevin Durant on that list.
In an interview with HoopsHype, Durant laid out pretty clearly that he's okay with being overlooked for MVP despite being the favorite to win his second consecutive scoring title, and gave his support to the kid from Chicago:
"As of right now, I congratulate Derrick Rose for winning MVP… Yeah, of course (Rose should be the MVP). He's having a phenomenal season. They're No. 1 in the East now, especially with all the firepower that went to the East… (Rose), Kobe Bryant and LeBron James, those three guys should be MVP candidates.''
via
HoopsHype.com NBA Blogs - Chris Tomasson » Durant's under-the-radar season
.
If you want to read some subtext, hit the find hotkey on your browser and do a search for "Dwight Howard." This will be the first mention of his name. Howard hasn't received much of an endorsement at all. He's not even mentioned by Durant. Durant does mention Kobe Bryant several times, showing his respect for him.
Durant probably should be on the list. But if we're looking for marks, his field goal, free throw, and 3-point shooting percentages are all down. He's taken a slightly lower role in the offense (while still having one of the top usage rates in the league), and his rebounds are down as well. Last season's results shouldn't bear out in the current MVP race, but they're going to.
Consider Durant's endorsement yet another sign that the MVP race, no matter how much debate should be held, is over.