Posted by Royce Young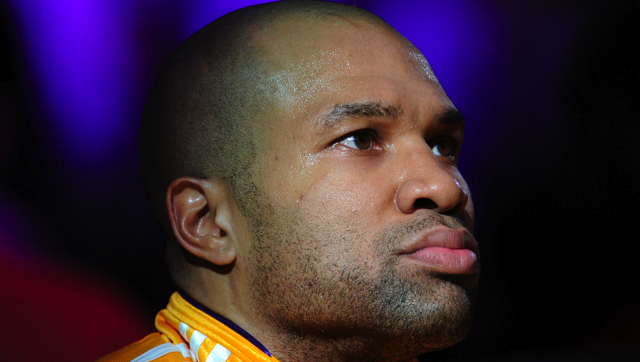 If there's a lockout -- I like how we're all still saying "if" as if it's still not a sure thing -- players are going to want to play somewhere. Some have talked about taking their talents overseas, including Dirk, Kobe,
Andrei Kirilenko
and a few others.
Player union president
Derek Fisher
has an idea -- charity exhibition games.
As told to NBA.com:
"I'd say it's possible right now," the Lakers guard said after Wednesday night's game at Oracle Arena. "We're so focused on trying not to be in that situation, so it's tough to go into full-scale planning on those types of situations. But at the same time, we have a responsibility as a union and as an association to really keep options that are viable open for our guys.

"There's so many challenges logistically, in terms of where you play, having the arenas, having officials, security – all the things that a lot of times we don't have to deal with because the league is doing those things. But we looked into it before, we've looked into it a little bit now. Until we see that it's something that we're really going to have to look forward to doing, right now, it's still just kind of floating out there."
Definitely a pretty cool idea, especially because we're going to be dying for some hoops come November. God forbid if there isn't a plan yet to have games that count for something, a charity exhibition is better than nothing.
The main problem as Fisher said are the logistics of it, but I'm sure that can get settled if they're actually serious abou it. Where do you play? Who officiates? Who promotes it? How do you sell tickets? What happens if a player gets hurt? Is he contract voided?
All of that would need to be sorted out. I like how "charity" is tossed in there though. The owners are going to want to squeeze players that live paycheck-to-paycheck. That's the whole idea of a lockout. The players are "locked out" and therefore can't play, so therefore they can't get paid. Therefore they succumb because they need the cash. So maybe the "charity" Fisher speaks of is the Irresponsible NBA Player Foundation that will fund all the guys that can withstand a lockout.
If that were true, then this would pretty much be the best idea ever. I think Derek Fisher would need a presidential promotion.
Via PBT