Former NBA All-Star Allen Iverson reportedly went on a profane tirade against police officers during a car stop. Posted by Ben Golliver.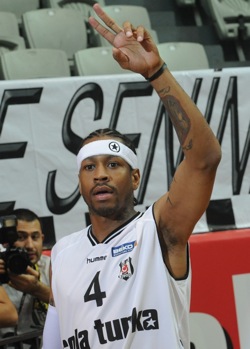 The saga of former NBA All-Star Allen Iverson has taken another turn. Last week, Iverson was a passenger when a Lamborghini that he owns that was pulled over by police in Georgia for a traffic violation.
In short order,
CNN.com reports
, Iverson went on a profanity-laced tirade, implying that police officers were out to get him and dropping the one line you can never, ever say to law enforcement and hope to get away: "Do you know who I am?"
Iverson became "irate," according to the police report, saying, "I'm the (expletive) passenger." The officer radioed for backup, and a second unit arrived, according to the report. Clisby and Iverson were asked to exit the vehicle, while Iverson continued to curse at the officer, the report said.
"Take the vehicle, I have 10 more," Iverson said, according to the report. "Police don't have anything else (expletive) to do except (expletive) with me." He then asked, "Do you know who I am?"
The officer wrote in his report that "For the next 20 minutes, Mr. Iverson went on and on about who he was. I stated to Mr. Iverson, 'It really doesn't matter who you are. You tried to conceal your vehicle with a fake drive-out tag due to you not paying for your tags.' "
Iverson then said, "I make more money than you will in 10 years," according to the report.
Iverson signed a two-year contract with Turkish club Besiktas in the fall but was sidelined by a calf injury that required treatment and recovery here in the United States.
Roughly two weeks ago
, reports surfaced that Iverson would be returning to Besiktas shortly to join the club for their playoff run.
There's not much to take from this situation except that it's sad on a number of levels. Sad that Iverson feels targeted. Sad that he wasn't able to control his temper and comport himself more respectfully. Sad that police officers have to deal with abusive behavior on a daily basis. Sad that Iverson isn't in a jersey somewhere doing what he loves: hooping.
This year hasn't been a good one for Iverson. Rumors of his financial difficulties and drinking problems. The boomerang trip to Turkey. The injury. Supposedly his health is back. Let's hope that once his body gets right his life falls back into place. If only it was that simple.