Posted by Royce Young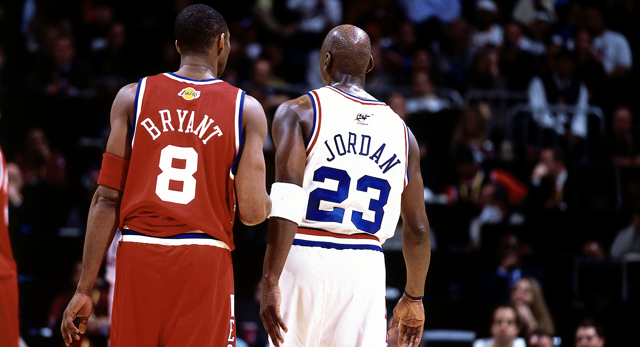 There are a lot of people I look up to in terms of sportswriting. A lot of people that have influenced me, inspired me or maybe even helped me improve. I've met a few of them and one thing I most definitely did not do was immediately say: "I can write a better feature than you."
But I'm not
Kobe Bryant
. In a whole lot of ways, I'm not Kobe Bryant.
Via the OC Register:
[Phil] Jackson told the story of arranging a first meaningful meeting between Bryant and Michael Jordan in the 2000-01 season, which was filled with Kobe-driven friction after the first championship the previous season. Jackson's goal was for the learned Jordan to get the eager Bryant "to understand he didn't have to stray outside the offense" and the Zen idea to "wait till the game presents itself."

Jackson said Bryant's first comment to Jordan, however, was: "I can take you one-on-one."
I think coming from a 22-year-old Kobe, that's not all too shocking. However, if you recall,
Kobe said this back in September
when asked if he could beat LeBron one-on-one: "I'd win, I'd win. That's what I do. One-on-one is, that's easy for me, you know. Playing one-on-one is how I grew up playing. It's like, my thing. LeBron is more like a
Magic
Johnson, he's a great passer and plays an all-around game. At the core of me, I'm a one-on-one player. I'd do that in my sleep."
Kobe has never been shy about his talent. Never been afraid to speak up. It's part of what makes him such a confident player and on top of it, such an interesting person to cover and write about.
I mean, set aside how ridiculously cocky it was of him to say something like to M.J. Because come on, that's just stupid, even if you think it's true. But that arrogance is something Kobe has always had about him and the thing is, he's backed it up. Five rings, an MVP, scoring titles and a spot right behind His Airness as the best shooting guard ever.
What I can't believe about this story is though, that Jordan didn't throw off his jacket, grab some sneakers and say, "Alright, let's go."

Via TBJ