The Grizzlies clinch a playoff appearance with a win over Sacramento.
Posted by Matt Moore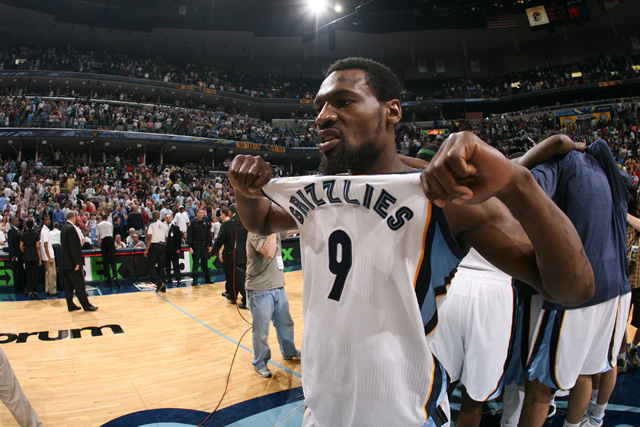 Three years ago, the Memphis Grizzlies committed to rebuilding. Not the stubborn, slow decline type that buries teams in NBA purgatory for years on end. Instead, the Grizzlies traded their best player, their biggest asset, their All-Star, for what was perceived to be scraps. Expiring contracts, a fringe prospect, the brother of the star they were trading, and a draft pick. That's it. The only player to make roster in 2010 for the Grizzlies from that trade was the brother, who started at center.
Three years after that trade, the Grizzlies have clinched a playoff berth for the first time since 2006
in a 101-96 win
over the Sacramento
Kings
in front of a raucous, yes, raucous, crowd in Memphis, Tennessee at FedEx Forum.
That the Grizzlies made what will likely be the 8th seed barring a phenomenal collapse by the New Orleans
Hornets
will be a sidebar, a nice little story, quickly forgotten. It will be ridiculed by fans of juggernauts like those in Boston, Miami, Chicago, and of course, Los Angeles. It will be considered nothing more than a blip on the radar screen. But if you're looking for a sports story that epitomizes what can be great about the NBA, what can be great about sports, the Memphis Grizzlies are a pretty fine place to start.
Memphis should not be here. Their best overall player,
Rudy Gay
, has been on the shelf since before the All-Star break in February with a shoulder injury.
Zach Randolph
, their best remaining player and best offensive weapon, relies on nearly no athleticism, instead out-crafting and out-hustling his bigger, longer, faster opponents on the glass and managing to slip in shots amid a sea of limbs. Randolph was a team killer for a decade before landing in Memphis, and the Grizzlies' acquisition of him was considered in and of itself a joke.
Tony Allen
was the Grizzlies' big free agent pick-up in the summer of 2010, and he was a player
Celtics
' fans called out with glee when he was gone. A terrific defensive player that fancied himself an offensive weapon, Allen was so fond of taking the ball and breaking the set in isolation on offense, I took to referring to his escapades as the Tony Allen ISO Project. I imagined a house band tuning up in Allen's head when the leather touched his hands, his mind exploding with the possibilities of ways he could score. This is even more ridiculous considering how the room for Allen was created. The Grizzlies traded a draft pick to Utah for
Ronnie Brewer
, then a restricted free agent and now a key member of the
Bulls
' bench mob. Brewer got hurt, then the Grizzlies rescinded their restricted free agent rights for Brewer. They paid a draft pick to watch him walk to the top team in the East. They used that money and roster space to sign Allen.
The roster goes on and on from there. The Grizzlies' second overall pick in the 2010 draft, a gift from the heavens, was wasted on a pogo stick with no discernible basketball talent who was traded along with a first-round pick for an aging wing defender with questionable shooting numbers.
Darrell Arthur
was supposed to be a draft bust, plagued by injuries and a lack of discernible role.
Leon Powe
was a washed up injury-plagued center cast aside by the Celtics after his championship contributions.
Then there were the guards. I described
Mike Conley
's
$40 million extension at the beginning of this season as the worst move in franchise history
. He entered the season as a point guard with questionable handle, decision-making, play-making, and defensive skills.
O.J. Mayo
struggled as a point guard in Summer League, lost his starting job during a shooting slump, then was nearly traded to the
Pacers
. But a last minute bit of the trade jitters from New Orleans sacked the deal, and Mayo was stuck on a team that clearly didn't want him.
How was this team supposed to make the playoffs?
Randolph turned his entire reputation around, not only delivering efficiency, production, and leadership on the floor, but in the locker room. Randolph is the first to tap up the rebound, first to help up his teammate, first to greet the bench unit in a timeout. Everything you associate with a selfish, stat-hounding, head-case, team-cancer player like Randolph had been categorized as, he's been the opposite of. He set the tone, and the team rallied. Tony Allen came in and became the heart and soul of the team. He battles for every rebound, constantly swipes in the passing lane, helping the Grizzlies lead the league in forced turnovers, and, against all reason, has turned into an outright offensive threat. He finishes much like Randolph, in contrast to all things logical and traditional in offensive basketball form. He just gets the job done. And it's his emotion the team, the city, the fans feed off of. The working man's hero.
Shane Battier
came in and immediately resumed his role as a fan favorite, providing the cerebral balance to Allen's emotional energy. In his first game back in Memphis he was in O.J. Mayo's ear, talking to Darrell Arthur, communicating with the coach. Battier has come to provide the yang to Tony Allen's unstable yin. It shouldn't work, but it does. Arthur all of a sudden is a lock from mid-range, a quality defender in both low-post man and weakside help situations, and able to finish off the pick and roll. Combined with Gasol and Randolph, the Grizzlies host a three-man rotation down low with matchup advantages in skill, size, length, athleticism, and range. Powe is a hammer that does the dirty work and still has quality minutes in him.
At the time, I wasn't wrong for criticizing the Conley deal. It was poorly timed by the team considering his then-upcoming restricted free agent status and what he had shown as a guard.
I am now
. That's how these things work out, and Chris Wallace and Michael Heisley, along with head coach Lionel Hollins deserve every bit of credit for seeing the future of Conley. Mayo rediscovered his shot, and seems to have found a partner to work with in Shane Battier. Instead of pouting, abandoning his teammates and an organization that didn't want him, Mayo came to work, and produced.
And now the Grizzlies have made the playoffs. They're in the postseason; they have a seat at the table. And yeah, they'll in all likelihood be ushered out swiftly by the
Spurs
or
Lakers
, as championship teams do to 8th seeds. But they have the hope of winning a few games which hasn't happened in Memphis. Ever. It's these kinds of steps that help a team build itself into something more than a fringe punch line, more than a Washington General to the big market bullies. The Grizzlies' road to the postseason hasn't been filled with success after success. It has had its mistakes, its bad luck, its times where the vehicle has slammed into the ditch. But the team has rallied around itself and even without its best player, is headed for the second season.
Ain't that something? Strike up the band. Memphis has got one more dance in it.