Miami will have its hands full again with the Celtics on Sunday, but their biggest concern should be Rajon Rondo.
Posted by Matt Moore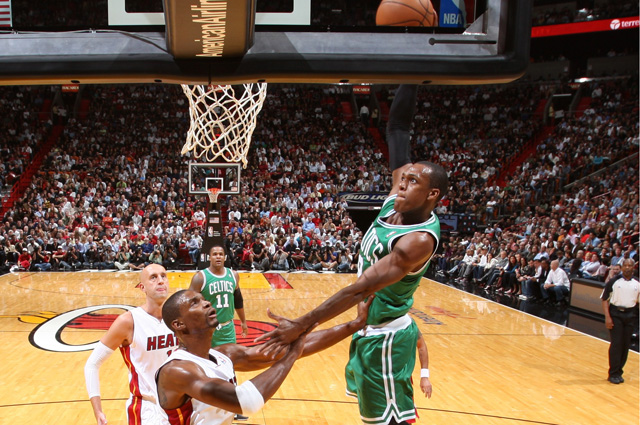 Rajon Rondo created 53 assists against the
Heat
in three meetings this year. He dropped 17 dimes in the season opener, 16 in their first meeting in South Beach, and 10 the last time the two teams met. Of those 53, he created 3-point assists on seven of his 17 in the first game, six of his 16 in the second, and two of his 10 in the third meeting. Factor in the extra points created on 3-point attempts with the two-point field goals and his own 23 points in the three games, and you come up with 144.
In three games against Miami, Rajon Rondo, by himself, has created 144 points against the Miami Heat, and that's before you factor in free throws created off his passes.
Nearly 50 points of offense per game, attributable to one player.
So yeah, the Heat may want to try and figure out some method of at least slowing him down when they face the Celtics on Sunday.
The Heat entered the season knowing that they were going to be weak at the two positions not addressed in the formation of the Big 3, point guard and center. But while they haven't been exposed too heavily at the center position due to an absence in depth of elite players at the position, point guards have sliced and diced them, rendering what is on an average day a very good defense powerless as point guards create penetration and either finish at the rim or leave Heat defenders trying to sprint in two directions at once on the drive and kick. No one has hurt them more than Rondo. Not even Rose.
The problem is, a solution is not an easy thing to suss out. Sure, the Heat can try the Celtics' approach against elite wings, which is to shade both Rondo's man and the pick and roll defender towards Rondo, with a third defender helping from the weak side, to try and entice him to shoot. But the Celtics are so good at creating space thanks to veteran wisdom, it becomes too easy for Garnett to slip out for a pick and pop, Pierce to create room for a catch-and-shoot step-back, or Allen to pop a catch-and-shoot three. This is before you start to worry about the help defense eventually leaving
Glen Davis
or one of the O'Neals open underneath for a whip pass.
Rondo's ability to see the floor, combined with his daring in regards to wanting to make that difficult pass most others would consider too difficult, makes him a nightmare for the Heat. At different times the Heat have elected to send
LeBron James
and
Dwyane Wade
to cover Rondo, only to find him exploit the switch to their man as
Eddie House
,
James Jones
, or
Mike Miller
try and cover someone much better than them. There's the problem of the Big 3. It was hard enough when it was just the three of them. With Rondo, the problem becomes nearly impossible to solve.
But that's just the challenge they'll have to figure out. In reality, it's simply a matter of effort and intelligence. The Heat have to shade far enough to prevent Rondo from getting to the sensitive underbelly of the defense, while still keeping space to recover on jump-shooters, cutters, and bigs looking for the lob. Essentially, you have to cover the entire floor and cover it simultaneously.
The best way to approach it may be to force Rondo into transition. On the break he's prone to those same daring instincts, but without the sound structure that creates so many opportunities. An up and down game favors the Heat from an offensive standpoint, but more importantly, it goads Rondo into high-speed antics versus the controlled chaos he unleashes in the half-court. Neither is preferable.
But after he's torched them for 144 points, it's certainly time to try something different.