Confrontation between Charlie Villanueva and Ryan Hollins ends in double ejection, before Villanueva attempts to charge Cavaliers' bench, then break into locker room to continue altercation.
Posted by Matt Moore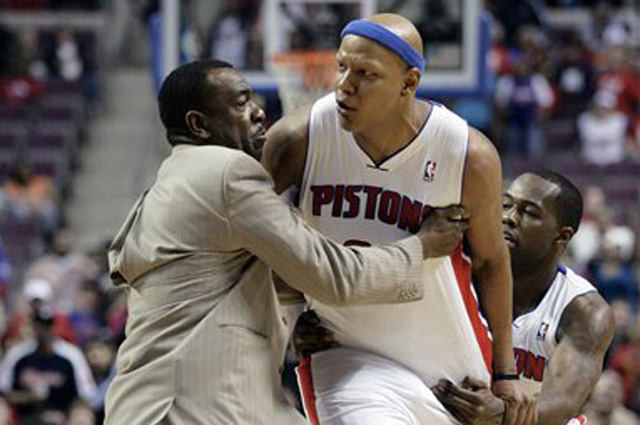 Update:
Villanueva after the game on why he went "bonkers": "
You've got to be careful with the quiet ones, right?
" The word you're looking for is "Yikes."
Charlie Villanueva lost it on Monday night versus the Cavaliers after a confrontation with center Ryan Hollins. Hollins and Villanueva became entangled in your protypical tussle during a screen, resulting in Hollins shoving Villanueva in the face, and Hollins swinging at Hollins. The two were separated by teammates, and that's when things got weird.
It was announced that Villanueva was ejected, and at that point, Charlie V. went nuts. He started to charge the Cavaliers' bench to get at Hollins, and had to be held back and pushed towards the back by an assistant coach, and
Rodney Stuckey
, who was hanging off the power forward trying to avoid a scary incident. The
Cleveland Plain-Dealer cites
a
Pistons
reporter who says
Villanueva was saying he was "going to kill that dude (Hollins)." On his way out, Villanueva motioned for Hollins to meet him in the back. The weirdness doesn't end there.
Once back in the locker room area, Villanueva
had to be restrained
trying to get into the Cavaliers' locker room,
presumably to get to Hollins
, who was also ejected.
If I may, that story is bananas, B-A-N-A-N-A-S.
During the ejections, the Pistons P.A. announcer took the time to r
emind the fans not to throw anything
and to stay in their seats. Gee,
I wonder why
.
Considering the fact that Villanueva didn't react this way when
Kevin Garnett
may or may not have called him a cancer patient
, you have to wonder what Hollins said to Charlie V.
Here's footage of the incident: