Indiana Pacers forward Danny Granger says he'd rather face the Chicago Bulls than the Boston Celtics. Posted by Ben Golliver.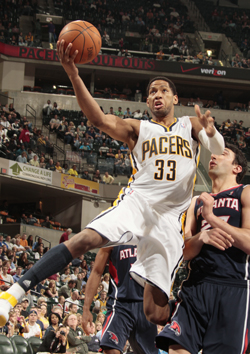 In case you missed it: the
Eastern Conference playoff match-ups are set
. The Miami
Heat
face the Philadelphia
76ers
, the Orlando
Magic
face the Atlanta
Hawks
, the Boston Celtics face the New York
Knicks
and the Chicago Bulls face the Indiana Pacers.
That last match-up is worth noting, in particular, because Pacers forward Danny Granger recently provided some locker room bulletin board material for the Bulls, saying that he felt the Celtics would be a tougher opponent
according to ESPNChicago.com
.
"Boston's a different monster," he said. "They don't have the best record in the East, but they won championships; they know how to do it. They have four, five guys you have to worry about.
"Chicago, they go as Derrick Rose goes. If you make a concerted effort to stop Derrick Rose, you have a better chance of beating them."
Well, I can definitely think of smarter things to do than writing off the team with the league's best defense as a one-man show. Rose is amazing, to be sure, but he's commanding a talented group.
Chicago already plays with a massive chip on their shoulder. Hearing that a fringe All-Star on a fring playoff team doesn't fear them? That's only going to get the nostrils flaring even more.
Does Granger have a point here? Perhaps. Boston has been there before. But Celtics observers would argue that the team is struggling right now precisely because its point guard,
Rajon Rondo
, isn't playing up to snuff and that it's carrying over to the rest of their options. Is it easier to make a concerted effort to stop Rondo than it is to stop Rose? Of course.
Make no mistake, the Pacers are just happy to be in the playoffs and would get bounced quickly by either team. Give Granger credit for being honest here and pass along our condolences in advance for what Chicago is about to do to him.