The Portland Trail Blazers have signed free agent center Earl Barron. Posted by Ben Golliver.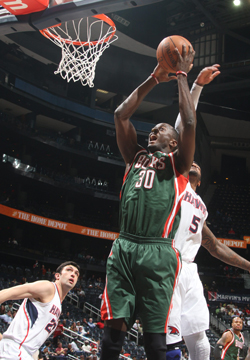 The Portland Trail Blazers had looked content to enter the NBA playoffs with their roster but then starting center
Marcus Camby
suffered a freak neck injury last week. Camby's absence exposed Portland's lack of interior depth, a constant problem during a season that has seen big men
Greg Oden
and Jeff Pendergraph go down to season-ending knee injuries.
On Tuesday, the Blazers decided to fill their one remaining roster spot with the best available seven-footer: free agent center Earl Barron. He will be eligible for the playoffs.
The Portland Trail Blazers have signed center Earl Barron for the remainder of the season, it was announced today by General Manager Rich Cho. Barron, 29, was a member of the 2005-06 NBA Champion Miami Heat his rookie season in the league and has played parts of five seasons with Miami (2005-08), the New York Knicks (2009-10), Phoenix Suns (2010-11) and Milwaukee Bucks (2010-11), posting career averages of 5.2 points, 3.6 rebounds, 0.5 assists and 15.1 minutes in 108 games (27 starts).
A University of Memphis product, Barron (7-0, 250) averaged 3.8 points, 3.3 rebounds, 0.4 assists and 14.1 minutes in 19 games (six starts) with Phoenix and Milwaukee this season.
Barron also played parts of five seasons in the NBA Development League, making the D-League All-Star team in 2009-10 with the Iowa Energy. The Trail Blazers roster now stands at 15 players. Barron will wear jersey No. 40.
Camby is expected to return to the court this week and be available for the playoffs, so Barron is really just injury insurance. The Blazers also recently signed reserve big man
Chris Johnson
, who has played sparingly when Camby has been out.
Rather than lean on Johnson or Barron should Camby go down again, Blazers coach Nate McMillan is much more likely to play a smallball lineup that shifts forward
LaMarcus Aldridge
into the middle. Nevertheless, the spot was open and there's very little cost associated with bringing Barron on at this point.
The signing completes a crazy year for Cho, who has signed five free agent centers in less than six months: Fabricio Oberto, Sean Marks, Jarron Collins, Johnson and now Barron.
If the playoffs started Tuesday, the Blazers would be the Western Conference's No. 6 seed. They would face off against the No. 3 seed Los Angeles
Lakers
.