The NBA has suspended Detroit Pistons forward Charlie Villanueva for five games for his reaction to a recent altecation against the Cleveland Cavaliers. Posted by Ben Golliver.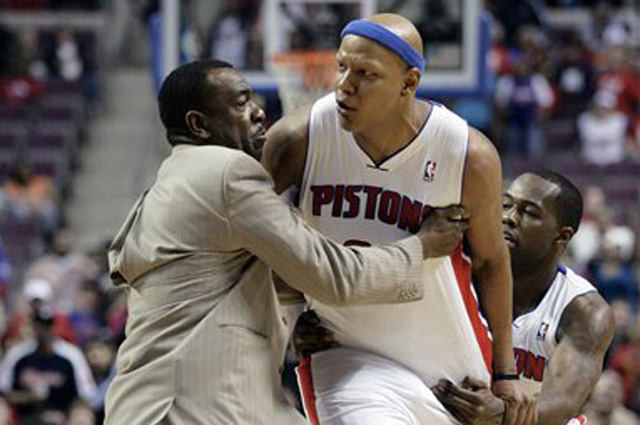 Breaking news: If you run around an NBA court like a crazy person, gouge someone's eyeball, have to be escorted to the locker room by security, try to enter the opposing team's locker room multiple times and threaten to kill an opponent, the NBA will put you in an extended timeout.
On Thursday, the NBA announced that it was suspending Detroit Pistons forward Charlie Villanueva for five games for his part in an on-court altercation with Cleveland Cavaliers forward
Ryan Hollins
that turned into an ugly scene when Villanueva refused to leave the court, instead trying repeatedly to confront Hollins.
Charlie Villanueva of the Detroit Pistons has been suspended five games without pay for initiating an on-court altercation with Cleveland Cavaliers' Ryan Hollins and attempting to escalate the altercation by entering the Cavaliers' locker room on two occasions following his ejection, it was announced today by Stu Jackson, NBA Executive Vice President, Basketball Operations.
The incident occurred with 5:47 remaining in the fourth quarter of the Pistons' 110-101 loss to the Cavaliers at The Palace of Auburn Hills on Monday, April 11.
Villanueva will serve the first game of his suspension tonight when the Pistons play the Philadelphia 76ers at Wells Fargo Center. The remaining games will be served during the first four 2011-12 regular season games in which he is physically able to play.
As there is only one game left in Detroit's season, the balance of Villanueva's suspension will carry over into next season. Given Villanueva's $7.0 million salary this season and $7.5 million salary next season, the suspension without pay will end up costing him more than $450,000 in pro-rated salary. Hope it was worth it.
Here's the video of Villanueva's insane reaction once again.