As the Kings get set to play what is likely the last pro basketball game in Sacramento, California, the NBA Board of Governor's needs to think long and hard about what it wants its legacy to be.
Posted by Matt Moore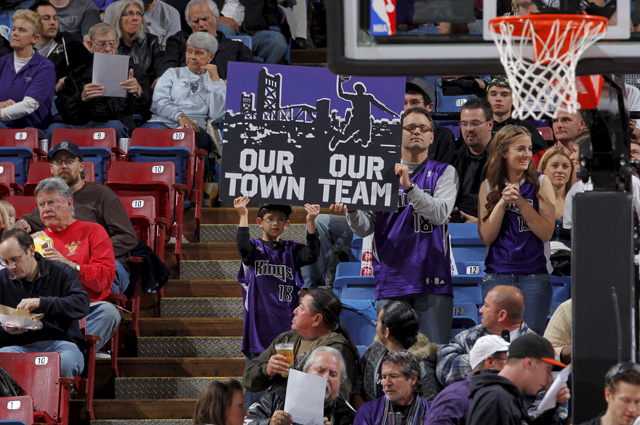 Somewhere in the old and tired seats of Arco Arena, a kid's going to watch his last NBA game as a Kings fan.
Yes, we're going there. I'm not pulling out the emotional tale to rattle your bones or just to make my point. I'm pulling the kiddo card because in these instances, we look at these events through the eyes of "business" despite most of us not being multi-billion dollar titans of industry. We like to analyze these things from afar under the guise of perspective, but in reality, it's to avoid sentimentality. Which to be honest, in this context, is a little absurd. Sports is sentimentality. It's entirely sentimental. It's about feeling, it's about the thrill of victory and the agony of defeat and the anxiousness of playoff hopes and sometimes, just sometimes, the sheer joy of a championship. Okay, that's mostly just
Lakers
and
Celtics
fans, but you get my point.
It is not about what the Kings faithful will experience tonight. That kid's going to have to watch as his team walks out on him, as it's ripped away from him because the market politics of the NBA have created this culture. You want a pragmatic reason to avoid this? That kid will grow up having turned his back on the NBA for turning its back on him. That's a fanbase, lost to the league, who won't know what makes the game great, because they'll be too spurned to enjoy it. You can't watch your team in someone else's backyard. Not like this. After the league has issued statements and weathered the PR storm and we in the media have found something else to freak out about, those fans will still be there, trying to understand what happened to their team.
For original season ticket holders such as Lindow, emotional – and financial – ties to the team run deep. So, apparently, does the hurt.

Before he died, Frank Prentice, a steel products salesman, told his family to never give up their Kings tickets. Anne Prentice, a vascular surgeon, remembers her father taking her and brother Gary, now a high school teacher, to Kings games "back when we thought it was the greatest thing in the world."

She plans to take her mother, Lu Prentice, to the last game. And she muses about whether she'll wear "a black armband."

She is furious about owners Joe and Gavin Maloof contemplating moving the team to the Los Angeles media market, home of the Lakers, adding "insult to injury." In a recent letter to The Bee, she castigated the Maloofs "for ripping the hearts out of countless Sacramento fans."

"My dad said, 'Don't let the tickets ever leave the family,' " Prentice reflected in an interview. "I don't think he ever dreamed that they (the Kings) would leave us."
via
Longtime Kings season ticket holders reflect, prepare for likely last game - Sacramento Sports - Kings, 49ers, Raiders, High School Sports | Sacramento Bee
.
Here they stay.
---
Consider everything that Kings fans have tried to do. They've petitioned, they've called, they've written. They're
organizing a sit-in
, they have
campaigns and slogans
and pleas and cries and outrage and desperation and nothing is going to stop what's happening because this is what the NBA has decided is in its best interest. Five to six markets with all the power. Everywhere else is just a system of rotating Washington Generals. Sure, the NBA backed moving the Sonics to OKC. But that was about arenas, about the league's ability to pressure cities into ponying up the dough. It set the precedent. "Don't want to pay for a new arena? We'll go somewhere else." But be sure, the league's priority is for its biggest markets to succeed. It won't interfere. It just won't protect the others. Meanwhile, we know even large markets can have their hearts ripped out.
Kevin Durant
knows, he was there.
"But it was cool man to see that," he added, speaking of Sonics fans' passionate in-game plea to keep the team.

Durant's rookie year, his single season in Seattle, was merely a stepping stone to his present-day success. Unfortunately for disenfranchised Sonics fans, they've had to painfully watch the now-Thunder forward tap into his potential in Oklahoma City.

"It was kind of tough on the players to go through the whole move and everything," Durant said of packing his bags after only one year in Seattle. "But everything happens for a reason I think."

Though it's been three seasons since his last game in the Emerald City, the reigning scoring champ still misses his first NBA home. Especially considering how dedicated he felt Seattle fans were while there.

"It was tough," said Durant of leaving the Sonics fanbase. "But we didn't know for a fact that we were leaving. It was up in the air with us."
via
Thunder
Players Contrast Seattle Departure to Sacramento's Pending Fate - SB Nation Bay Area
Those Sonics fans are still around, still trying to get basketball back in their city. But how are they ever going to trust a league that turned its back so hard on them again? How are they supposed to deal with stealing someone else's team, causing someone else the same pain they went through? They will, because they don't have any choice. If there's one thing that's become apparent through the transitions of Seattle to Oklahoma City and Sacramento to Anaheim, it's this. The Fans don't have any say in the matter. They're just there.
Here they stay.
---
The real issue here is that sports do mean more than just dollars and cents. It's more than just a billionaire's play thing. It builds families, friendships, brings communities closer together, helps foster good works, drives the economy, helps the city be a better place to live. So why do we treat it with such a removed sense of inevitability? Because it's happened before? What, we've never affected change? We've never as a society decided that something wasn't in our best interest and moved to correct it?
The NBA Board of Governors have to make the best decision for their respective businesses. But the NBA as a whole has to do what's best for its business, and that business is what is best for basketball. Abandoning a city that has shown to have incredible fan support just to move into an already overly-saturated market and attempt to siphon off the scraps of the Lakers and, heaven help us, the
Clippers
, is not in the best interet of basketball.
Protecting small markets, big markets, all markets that care about basketball should be in the best interest of the league. Keeping one of the best environments in the league in place should be in the best interest of the league. Working with willing cities to keep their teams in place should be in the best interests of the league. Failing fanbase after fanbase just to make sure the league gets its Lakers-Celtics payoff every few years is not in the best interest of the league.
There are basketball fans in all parts of this country, and they are not irrelevant because of their cost of living of population. If they are, the league is failing in its duty to do what's best for basketball. Even as the team heads towards Mickey Land, the fans haven't abandoned it. Instead, they've grown closer.
The last month and a half has been one excruciating slow descent into madness, punctuated by the fact that when the season ends we won't know whether or not to say "Goodbye" or "See you next year". The question we've all been asked a million times is "What are you going to do if they leave?" I honestly don't know. Sure, I'll get on Twitter all full of piss and vinegar with claims of boycotting the NBA and the city of Sacramento, but the reality is I have no fucking clue what I'm going to do. I'm too emotionally invested in this team to give up at this point.

I've watched Cisco grow into becoming the backbone of the team. I've seen DeMarcus bitch slap the naysayers with his flashes of brilliance that point towards him fulfilling the manbeast potential we all know he has in him. I saw Geoff Petrie pluck Marcus Thornton from obscurity on the Hornets bench and gleefully ran all over the living room when he transformed into the clutch shooter we've been begging for for years. I've watched Tyreke...oh my God have I watched Tyreke just be Tyreke. The glory days Kings will always have a special place in my heart, but they were a collection of established players that came together at the right time to take the city by storm. This team? This is our team that we've carefully watched over the recent lean years, patiently waiting for them to realize their potential and return to prominence.

That's the most frustrating part about this ordeal. We're on the cusp of something great. Fair-weather fans may have abandoned this team (justifiably or not), but those with the passion/insanity to stick around know what this team is capable of even though our W/L record deceives that notion. That's not to say it would be easier to let them go if the team sucked, but the fact that they might move just as they're finally putting it all together is a swift kick in the nuts on par with even the most devastating moments in franchise history. Yet, in the face of all of this, my passion hasn't waned. Hell, it's somehow grown.
via
An increasingly rambly, possibly historically inaccurate post about the Kings and how they taught me about passion - Sactown Royalty
.
These are the real, flesh and blood people the NBA is abandoning. These aren't just numbers and figures. If we want to say stats aren't all that matter in basketball, as so many owners do? Guess what? They shouldn't be all that matter when we talk about the future of the National Basketball Association. At some point in there should be a discussion about these fans, this community that's shown it can break decibel barriers and sellout game after game after game. Those fans don't just disappear when you move to Anaheim to pick up the craps. They're still there, only they're not supporting your product.
Here they stay.
---
Chris Webber wants to help.
Kevin Johnson has tried to help. Players, coaches, legends in this game have been clear. The
very team that drives
the NBA gravy train doesn't want the team to move. So why is this going through? The NBA has bailed out the Hornets. They've said they want to commit to keeping these teams in place. But they're again standing idly by while the Kings try and escape their debts while keeping their plaything.
Ray Ratto breaks
down the immaturity of the Maloofs
in all this, and lays out how awkward it will be if the vote fails. Imagine that, a team's owners, who siphoned money from the fans in every way possible actually has to deal with the spurned, as opposed to simply running away. Funny what happens when a fanbase doesn't just give up. When it doesn't just evaporate. Those people, that kid, is still there.
Here they stay.
---
The NBA Board of Governors has an opportunity not to simply look out for their own well being, but that of the game they've become shephards of. Long after their profit margins are gone, the decisions they make will impact the lives of thousands of people. But if they have a hard time dealing wth the enormity of the crowd, of the idea of a group of people versus any other, I'd ask they remember that kid. Is it a cheap ploy? Sure. But it's a very real human being who will have more going on in his life than just basketball. But it'll still be a big part of him, as it's been his whole life.
Sacramento deserves a chance. Local leadership is willing, financial groups are trying to make it happen, the fans are doing anything they can think of or have been asked to make an impact. The NBA needs to do its part. It just takes three little words.
Here they stay.