University of Arizona forward Derrick Williams will enter the NBA Draft. Posted by Ben Golliver.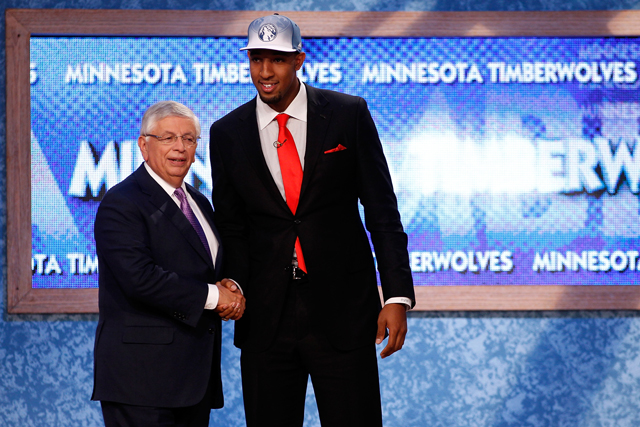 Finally, an elite college prospect that actually wants to join the NBA immediately.
University of Arizona sophomore forward Derrick Williams, a projected top-5 pick on most mock drafts, has declared for the 2011 NBA Draft and will hire an agent. The decision doesn't come as a surprise given the buzz Williams generated with his athletic, above the rim play during the 2011 NCAA Tournament, but other topic prospects, such as Baylor's Perry Jones, have recently opted to return to school.
The Wildcats
issued a statement
on Williams' behalf.
University of Arizona men's basketball player Derrick Williams has decided to make himself eligible for the 2011 NBA Draft. Williams intends to sign with an agent and will not return to the program in 2011-12.
A 6-foot-8, 241-pound sophomore forward from La Mirada, Calif., Williams led Arizona with per-game averages of 19.5 points and 8.3 rebounds, to go with a .595 (226-of-380) field goal percentage in 38 appearances (all starts). He scored in double figures 37 times, posted 13 double-doubles and posted the two highest single-game rebounding totals in the Pac-10 this season (19 at Washington State on Jan. 22 and 18 at California on Feb. 5).
"After careful consideration and with the support of my family and Coach Miller, I have decided to declare for the 2011 NBA Draft," said Williams. "I have enjoyed my two years at Arizona both on and off the court. I want to thank my teammates, who are like brothers to me, my coaches and all Wildcat Fans for making my experience an unforgettable one."
This year's draft class is generally regarded as a weak group. Williams, one of the year's fastest risers up the boards, might have the greatest star potential of any of the players that have declared thanks to his combination of skill, range and explosiveness. An efficient scorer, Williams can fill it up in a variety of ways: creating his own shot, shooting from the perimeter, getting to the free throw line and finishing in traffic.
If there are questions about Williams, the 2011 Pacific-10 Player of the Year, it's whether he is a three or a four at the NBA level and whether he has the tools to become an elite defender. Most likely, Williams will see time at both forward positions and will be allowed to focus most of his efforts on the offensive end of the court. That's how things tend to go for versatile scorers with his measurements.
In
a recent CBSSports.com mock draft
, Williams went No. 4 overall.
DraftExpress.com's current 2011 mock draft
has Williams being selected at No. 2.